Apple Pro Training Series: Final Cut Pro X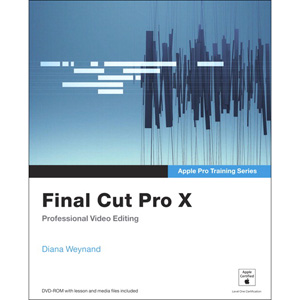 Completely revised for Final Cut Pro X and featuring compelling new footage, this best-selling, Apple-certified guide provides a strong foundation in all aspects of video editing. Renowned author Diana Weynand starts with basic video editing techniques and takes readers all the way through Final Cut Pro's powerful features.
Each chapter presents a complete lesson in an aspect of video editing and finishing, using professional broadcast footage. The book covers Final Cut Pro's exciting new features, including a completely redesigned interface, people detection, and Magnetic Timeline.
DVD-ROM includes lesson and media files for over 40 hours of training
Focused lessons take you step-by-step through professional, real-world projects
Accessible writing style puts an expert instructor at your side
Ample illustrations and keyboard shortcuts help you master techniques fast
Lesson goals and time estimates help you plan your time
Chapter review questions summarize what you've learned and prepare you for the Apple Certified Pro Exam
Table of Contents
Getting Started
Preparing to Edit in Final Cut Pro X
Lesson 1 Exploring the Interface
Lesson 2 Importing
Lesson 3 Organizing Clips in an Event
Crafting the Story
Lesson 4 Building the Rough Cut
Lesson 5 Finishing the Rough Cut
Lesson 6 Fine-Tuning the Rough Cut
Completing the Cut
Lesson 7 Applying Transitions
Lesson 8 Working with Sound
Lesson 9 Working with Titles, Generators, and Themes
Applying Effects and Finishing
Lesson 10 Retiming and Transforming Clips
Lesson 11 Applying Effects and Enhancing Color
Lesson 12 Exporting and Sharing Your Project
Glossary
Index
Book Details
Paperback: 544 pages
Publisher: Peachpit Press (September 2011)
Language: English
ISBN-10: 0321774671
ISBN-13: 978-0321774675
Download [47.2 MiB]