Nikon D5200 For Dummies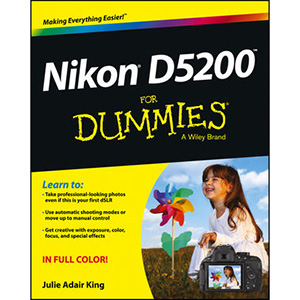 Invaluable photography advice for D5200 beginners
The Nikon D5200 is one of Nikon's most advanced cameras offered in the entry-level line of dSLRs. This book goes beyond the user's manual to deliver a helpful introduction to the basic photo skills needed in order to get great shots from the D5200. Assuming no prior dSLR knowledge, veteran author Julie Adair King offers you a tour of the camera body with this full-color book as she presents you with a hands-on how-to on all the features of the D5200. Packed with pics, this fun and friendly guide offers unique inspiration for capturing your own memorable images.
Helps you get an accurate feel for the camera, shooting in Auto mode, and managing playback options
Walks you through adjusting settings to get better results from exposure, lighting, focus, and color
Includes a full chapter on video mode
Addresses sending images to a computer for organizing, editing, and sharing
Demonstrates how to put the pieces together to get better portraits, action shots, and outdoor shots in any sort of light.
Shares tips on the most common edits needed to improve shots
Featuring an abundance of useful tips, this helpful guide encourages you to take control of your Nikon 5200 to get the photos you want.
Table of Contents
Part I: Fast Track to Super Snaps
Chapter 1. Getting the Lay of the Land
Chapter 2. Choosing Basic Picture Settings
Chapter 3. Taking Great Pictures, Automatically
Chapter 4. Exploring Live View Photography and Movie Making
Part II: Working with Picture Files
Chapter 5. Playback Mode: Viewing, Erasing, and Protecting Photos
Chapter 6. Downloading, Printing, and Sharing Your Photos
Part III: Taking Creative Control
Chapter 7. Getting Creative with Exposure and Lighting
Chapter 8. Manipulating Focus and Color
Chapter 9. Putting It All Together
Part IV: The Part of Tens
Chapter 10. Ten Fun (And Practical) Ways to Manipulate Your Photos
Chapter 11. Ten Special-Purpose Features to Explore on a Rainy Day
Book Details
Paperback: 384 pages
Publisher: For Dummies (April 2013)
Language: English
ISBN-10: 1118530470
ISBN-13: 978-1118530474
Download [133.7 MiB]