Taking Your Android Tablets to the Max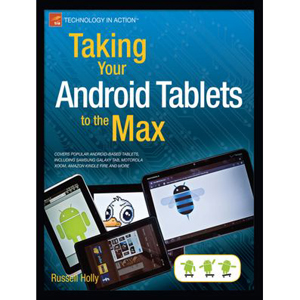 The march of the Android-based tablets has begun, including Galaxy Samsung Tab, Motorola XOOM, Nook and more. But where do you start? And what can you do with an Android tablet?
Taking Your Android Tablets to the Max is a one-stop shop for users of all skill levels, helping you get the most out of any Android tablet.
This book offers:
A breakdown of the differences between an Android 2.0+ or an Android 3.0 device
Tips for choosing the best device for you and how to best network (i.e., best wireless carrier for 3G or 4G or just WIFI)
Detailed walkthroughs on how to get the most out of your tablet and the apps for it
What you'll learn
Which Android tablet is the best; what size and features
What carriers should you choose for 3G/4G or just WIFI
How to fully enjoy your tablet—books, music, movies and games
How to use your tablet in a workspace
How to take your tablet on the road
How to maintain your tablet
How to work and live with the cloud as part of your tablet experience
How to never worry about losing your pictures, music and more
Who this book is for
This book is for tech enthusiasts and their family members, or anyone else who either owns or is considering buying an Android tablet.
Table of Contents
Why Android? Which Android?
Choosing the Tablet for You
Creating Your Google Account
Taking Advantage of Google Apps
Amazon Apps
The Android Market: Apps to Run Your World
The Camera: Standard and Front Facing
Music, Movies, Games, and More
Using Your Android Tablet Everywhere You Ae
Android Tablets in the Workplace
Cloud-based Storage: How to Ensure You Never Lose Your Data
What You Need to Know about Rooting
Customizing Your Android Tablet
Book Details
Paperback: 208 pages
Publisher: Apress (March 2012)
Language: English
ISBN-10: 1430236892
ISBN-13: 978-1430236894
Download [67.2 MiB]