System Center Service Manager 2010 Unleashed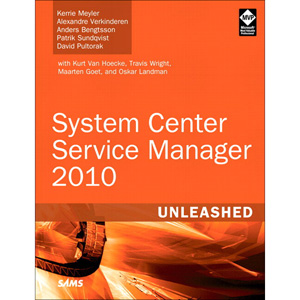 System Center Service Manager 2010 offers enterprises a complete, integrated platform for adopting and automating service management best practices, such as those found in ITIL and Microsoft Operations Framework (MOF). Now, there's a comprehensive, independent reference and technical guide to this powerful product.
A team of expert authors offers step-by-step coverage of related topics in every feature area, organized to help IT professionals quickly plan, design, implement, and use Service Manager 2010. After introducing the product and its relationship with the rest of Microsoft's System Center suite, the authors present authoritative coverage of Service Manager's capabilities for incident and problem resolution, change control, configuration management, and compliance. Readers will also find expert guidance for integrating Service Manager with related Microsoft technologies.
This book is an indispensable resource for every IT professional planning, installing, deploying, and/or administering Service Manager, including ITIL, MOF, and other IT consultants; system administrators; and developers creating customized solutions.
Understand Service Manager's architecture and components
Discover how Service Manager supports ITIL and MOF processes
Accurately scope and specify your implementation to reflect organizational needs
Plan to provide redundancy, ensure scalability, and support virtualization
Design, deploy, and maintain Service Manager with security in mind
Use Service Manager's consoles and portals to provide the right resources to each user
Create complete service maps with Service Manager's business services
Fully automate incident management and ticketing
Implement best processes for identifying and addressing root causes of problems
Systematically manage the life cycle of changes
Use Service Manager to strengthen governance, risk management, and compliance
Customize Service Manager's data layer, workflows, and presentation layer
Use management packs to simplify service desk customization
Make the most of Service Manager's reporting and dashboards
Book Details
Paperback: 768 pages
Publisher: Sams (August 2011)
Language: English
ISBN-10: 0672334364
ISBN-13: 978-0672334368
Download [26.9 MiB]