Juniper Networks Warrior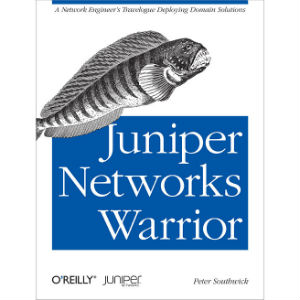 In this practical book, Juniper Networks consulting senior network engineer, Peter Southwick, offers unique first-person field studies on designing, configuring, and troubleshooting new systems that are changing the networking world. Each chapter-long "travelogue" follows a team of Juniper Networks warriors as they solve specific needs with emerging network platform architectures.
In these case studies, Southwick and his fellow warriors analyze a client's particular situation, arrive at an architectural solution, and work through the deployment details. For anyone who operates, installs, designs, or works in IT, this book provides an intimate and entertaining look at what's changing and why.
Among the case studies, you'll discover how:
A service provider protected customers from malicious traffic with Juniper Networks IDP systems
SRX5800s improved connectivity and security in a data center
Ethernet WAN technology was chosen as a storage solution, rather than a proprietary design on dark fiber
An enterprise severed communications between different departments to comply with government personal credit card standards
Core network and edge devices helped a power company serve local customers and ISPs in the data services market
A hosting company migrated its core, datacenter, edge, and access domains to a state-of-the-art network
"In this uniquely written book, you will get a detailed view of life in the data center, the edge, the core, and the office of the customer's CIO."
–Steve Fazio, CEO, TorreyPoint
Table of Contents
Chapter 1. An Enterprise VPN
Chapter 2. Maintaining IDP Systems
Chapter 3. Data Center Security Design
Chapter 4. Layer 3 to Layer 2 Conversion
Chapter 5. Internet Access Redress
Chapter 6. Service Provider Engagement
Chapter 7. A PCI-Compliant Data Center
Chapter 8. Facilitating Dark Fiber Replacement Using a QFX3500
Chapter 9. MX Network Deployment
Chapter 10. A Survivable Internet Solution for a Fully Distributed Network
Chapter 11. Internet Access Rebuild
Book Details
Paperback: 432 pages
Publisher: O'Reilly Media (November 2012)
Language: English
ISBN-10: 1449316638
ISBN-13: 978-1449316631
Download [18.1 MiB]