HP Network Node Manager 9: Getting Started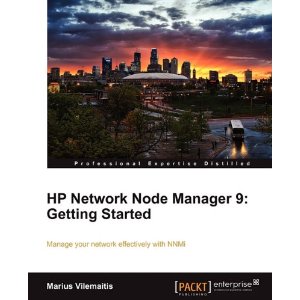 Every organization is on the lookout for ways to improve network availability and performance, and reduce their operating expenses. It's not funny to have to drive to a client's premises in the middle of the night without any clue as to what's going on – whether it's for an hour or for a whole day. It's even worse when the client has no or very little knowledge about what just happened because they have no tool to track the problem. Step beyond the default installations and make this tool work for you in the way you want.
This book guides you through the whole network monitoring implementation process. It covers all NNMi features and gives you hints to adapt this management software to your specific needs. It also describes how to use built-in features and adapt them in the most efficient way. It stitches the gap between technical personnel and management, covering subjects in both technical and business languages.
The book guides you from system sizing, edition, and feature selection to system customization as per your staff needs. If you are about to expand your system and bring external tools for integration with NNMi, this book is a good source to start from. It has descriptions and examples on why and how NNMi can be integrated. It explains what system designers do while sizing an NNMi system and how your system should be installed. You will also find a description on how you should design and implement your network discovery. You will learn how to create maps for your operators, so any network device that causes issues can be tracked fast, and each device position will tell each device's purpose.
Incident customization will help you configure which incidents are important for you, instead of receiving the vendor default settings with no clue as to what they mean in your situation. You will learn how to navigate between incidents and maps to reduce troubleshooting time and use your custom created tools within NNMi and become a proactive operator. The least visible but most important task in critical situations is how well you have prepared your system for disasters. This book describes backup, application failover, and clustering techniques with real-world examples. After reading this book, you will be ready to design monitoring and management tools to work along with NNMi in the way you want.
Don't work for NNMi – make it work for you
What you will learn from this book :
Implement the NNMi tool in your infrastructure
Customize NNMi to give operators a clear view about what's going on in a network, keep troubleshooting tools handy, and ensure a smooth workflow between other management tools in your network operations center
Tune alarms so that you are notified of important network outages or other changes
Take control over managing access to NNMi
Configure NNMi to be operational during almost any disaster
Monitor your network using NNMi as an operator
Personalize menus to your operational center needs
Expand NNMi built-in features with your own or additional plugins
Integrate NNMi with other management tools in your company
Upgrade your old version of NNM to NNMi 9
Insert your NNMi's puzzle piece into the Network Operations Center or Consolidated Data Management Center and foresee the next steps for your operations center development/expansion
Approach
This book is a step-by-step guide describing how to implement, maintain, and expand the NNMi management tool. It is a practical guide, based on experience managing networks in a wide scale of network operation centers. It shares best practices and explains a lot of non-technical issues that arise during implementations and operations. Each topic has practical examples where the reader can practice while reading the book.
Who this book is written for
The book is written for the following audience:
Monitoring solution designers, who plan how to implement NNMi
Network engineers, who plan to start managing their network
System administrators, who start administering NNMi
Network monitoring operators, who want to learn how to use NNMi
If you belong to any one of the above professions, then this book is for you. It's also for professionals who describe themselves as beginners, or intermediate-level professionals. The book is also suitable for old-version NNM users who wish to switch to NNMi.
Book Details
Paperback: 584 pages
Publisher: Packt Publishing (January, 2011)
Language: English
ISBN-10: 1849680841
ISBN-13: 978-1849680844
Download [17.3 MiB]