iPhone: The Missing Manual, 5th Edition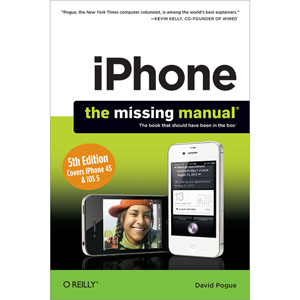 With the iOS5 software and the new iPhone 4S device, Apple has another world-class hit on its hands. This sleek, highly refined pocket computer comes with everything—cellphone, iPod, Internet, camcorder—except a printed manual. Fortunately, David Pogue is back with the latest edition of his witty, crystal-clear, colorful guide: the world's most popular iPhone book.
Use it as a phone. Learn the basics as well as time-saving tricks and tips for contact searching by voice, texting, and more.
Manage hour stuff in the cloud. Sync and back up your contacts and media across all of your devices with iCloud.
Get things done. Ask Siri to send reminders, place calls, and more.
Master notifications. Use the Notification Center to find missed messages, calendar invitations, friend requests, and more.
Connect with other iPhone owners. Send unlimited iMessages to friends, family, and colleagues who are also running iOS5.
Treat it as an iPod. Master the ins and outs of iTunes, and listen to music, upload and view photos, and fill the iPhone with TV shows and movies.
Take the iPhone online. Make the most of your online experience to browse the Web, read and compose email, use social networks, or send photos and audio files.
Go beyond the iPhone. Learn how to use the App Store, and how to multitask between your apps, organize them in folders, and read ebooks in iBooks.
Whether you have a brand-new iPhone or want to update an earlier model with the iOS5 software, this beautiful full-color book is the best, most objective resource available.
Table of Contents
Part I: The iPhone as Phone
Chapter 1. The Guided Tour
Chapter 2. Typing, Editing & Searching
Chapter 3. Phone Calls & FaceTime
Chapter 4. Speech Recognition—and Siri
Chapter 5. Voicemail, Texting & Other Phone Tricks
Part II: Pix, Flix & Apps
Chapter 6. The iPhone as iPod
Chapter 7. Taking Photos, Shooting Video
Chapter 8. All About Apps
Chapter 9. The Built-In Apps
Part III: The iPhone Online
Chapter 10. Getting Online
Chapter 11. The Web
Chapter 12. Email
Part IV: Connections
Chapter 13. Syncing with iTunes
Chapter 14. iCloud
Chapter 15. The Corporate iPhone
Chapter 16. Settings
Part V: Appendixes
Appendix. Signup and Setup
Appendix. Accessorizing the iPhone
Appendix. Troubleshooting & Maintenance
Book Details
Paperback: 544 pages
Publisher: Pogue Press; 5th Edition (December 2011)
Language: English
ISBN-10: 1449301770
ISBN-13: 978-1449301774
Download [50.7 MiB]