Starting an Online Business For Dummies, 7th Edition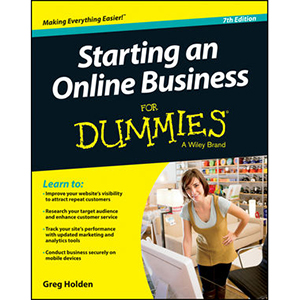 Mind your business with this updated edition of the bestselling online business how-to guide
Have a computer, an Internet connection, and a dream? Then, you're already on your way to starting your very own online business. This fun and friendly guide can help you turn your big idea into big bucks whether you're expanding your real-world storefront online or creating your own virtual startup. Starting an Online Business For Dummies, 7th Edition will show you how to identify a market need, choose a web hosting service, implement security and privacy measures, open up shop, and start promoting to the world.
Covers the latest trends and techniques for online discoverability – from social media marketing to search engine rankings, online couponing to optimization for mobile devices, and beyond
Highlights business issues that are of particular concern to online entrepreneurs
Walks you through the best practices of successful online businesses, including customer service, marketing, analytics, and website optimization tools
Provides advice on choosing an e-commerce platform, protecting your domain name, securing trademarks, working with vendors and distributors, and keeping your customer's personal data safe
There's no time like now to start a new endeavor and no guide like Starting an Online Business For Dummies, 7th Edition to get your online business going.
Table of Contents
Part I: Launching Your Online Business
Chapter 1. New Tools and Strategies for Your Online Business
Chapter 2. Opening Your Online Business
Chapter 3. Choosing and Equipping Your New E-Business
Chapter 4. Selecting Your E-Commerce Host and Design Tools
Part II: Creating a Business Website
Chapter 5. Organizing Your Business Presence and Attracting Customers
Chapter 6. Making Shopping Easy on Your E-Commerce Site
Chapter 7. Accepting Payments
Chapter 8. Communicating with Customers and Building Loyalty
Chapter 9. Sourcing Worldwide for Your Business
Part III: Social Networking and Marketing
Chapter 10. Advertising and Publicity. The Basics
Chapter 11. Search Engine Optimization
Chapter 12. Location, Location, Location Marketing
Chapter 13. Social Marketing. Facebook, Pinterest, Twitter, and Blogs
Part IV: Expanding Beyond Your Website
Chapter 14. Selling on Amazon.com and eBay
Chapter 15. Moving to Specialty Marketplaces
Chapter 16. Managing and Growing Your Online Business
Part V: Keeping Your Business Legal and Fiscally Responsible
Chapter 17. Keeping It All Legal
Chapter 18. Online Business Accounting Tools
Part VI: The Part of Tens
Chapter 19. Ten Ways to Reach Mobile Shoppers
Chapter 20. Ten Ways to Develop a Platform
Book Details
Paperback: 456 pages
Publisher: For Dummies; 7th Edition (July 2013)
Language: English
ISBN-10: 1118607783
ISBN-13: 978-1118607787
Download [37.6 MiB]