Intuit QuickBooks Enterprise Edition 12.0 Cookbook for Experts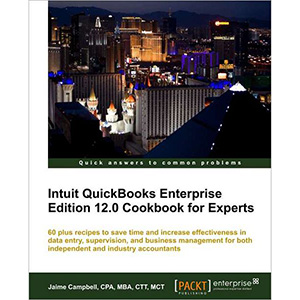 QuickBooks Enterprise Edition 12.0 is accounting software that is both user-friendly and sophisticated. The interface is visual and intuitive, but feature-rich for mid-size businesses, as well as complex, growing small businesses.
QuickBooks Enterprise Edition 12.0 for Experts is a cookbook with specific recipes for time-saving shortcuts, valuable customized reports, and surprising ways to use this accounting software to support decision-making in your small or medium-sized business.
With QuickBooks Enterprise Edition 12.0 Cookbook for Experts you can choose a topic of value and learn specific, practical techniques usable in your own QuickBooks file or in a sample file.
This book is rooted in the longstanding features of QuickBooks and includes the newest tools, whether you're upgrading from Premier or from a prior version of the Enterprise Edition. Topics include customizations, time-saving methods, integration with Microsoft Excel, and special tools and setup techniques for hyper-efficient information retrieval and analysis.
Whether you are an independent or industry accountant, whether you are a book-keeper, controller or CFO, QuickBooks Enterprise Edition 12.0 Cookbook for Experts will help you to expand what is possible in your business.
What you will learn from this book
Customize the QuickBooks environment and reports to match your working style and business operations
Optimally set up Items and other tools to get the most valuable information from your accounting records
Save time with relevant keyboard shortcuts, data entry shortcuts, and reporting shortcuts
Successfully manage your customer and vendor relationships by using QuickBooks in surprising ways
Increase supervisory efficiency and effectiveness with troubleshooting techniques and error-checking tools
Expand reporting and analysis capabilities by further exploring integration with Microsoft Excel
Set up QuickBooks for enterprise-level concerns including multi-user permissions, add-on services, and document storage
Create reports to strengthen relationships with your key customers, vendors, investors, and other stakeholders
Approach
QuickBooks Enterprise Edition 12.0 Cookbook for Experts is written in a non-sequential, modular way which enables the reader to select any relevant and valuable technique and learn it. Each recipe in the cookbook includes illustrations to make the most difficult techniques straightforward. Furthermore, the expert reader's time is not wasted on any basic language and steps.
Who this book is for
This book is written for CPAs, CAs, consultants, CFOs, controllers, managers, or bookkeepers with extensive experience with QuickBooks. Prior experience with the Enterprise Edition, however, is not required. You should have a thorough understanding of accounting procedures and a mastery of the basics of the QuickBooks environment.
Book Details
Paperback: 220 pages
Publisher: Packt Publishing (May 2012)
Language: English
ISBN-10: 1849685142
ISBN-13: 978-1849685146
Download [25.8 MiB]