The Digital Crown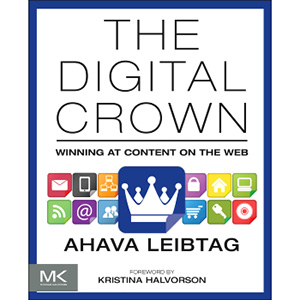 In 1997, Bill Gates famously said "Content is king." Since then, the digital marketing world has been scrambling to fulfil this promise, as we finally shift our focus to what consumers really want from our brands: a conversation.The Digital Crown walks you through the essentials of crafting great content: the fundamentals of branding, messaging, business goal alignment, and creating portable, mobile content that is future-ready. Systems create freedom, and within this book you'll learn the seven critical rules to align your internal and external content processes, including putting your audience first, involving stakeholders early and often, and creating multidisciplinary content teams.
Complete with cases studies and experience drawn directly from global content projects, you are invited to observe the inner workings of successful content engagements. You'll learn how to juggle the demands of IT, design, and content teams, while acquiring all the practical tools you need to devise a roadmap for connecting and engaging with your customers.
This is your next step on the journey to creating and managing winning content to engage your audience and keep them coming back for more.
Discover easy-to-follow, simple breakdowns of the major ideas behind engaging with your customer
Learn both the theoretical and practical applications of content and communication on-line
Maximize on the case studies and real-world examples, enabling you to find the best fit for your own business
Table of Contents
Part 1: Content is a Conversation
Chapter 1. Understanding Branding, Content Strategy and Content Marketing
Part 2: Content Floats
Chapter 3. Constructing the Conversation
Chapter 4. Publishing Content for Everywhere
Chapter 5. Engagement Strategies
Part 3: Effective Content Strategy: People and Process
Chapter 6. Understand your Customers
Chapter 7. Frame Your Content
Chapter 8. The Content Strategists' Toolbox
Part 4: Content Marketing. Now You Get To Talk
Chapter 9. Content Marketing Sustains the Conversation
Chapter 10. The Dream Content Team
Chapter 11. Talking about Design
Book Details
Paperback: 358 pages
Publisher: Morgan Kaufmann (November 2013)
Language: English
ISBN-10: 0124076742
ISBN-13: 978-0124076747
Download [21.5 MiB]