SharePoint 2010 Enterprise Architect's Guidebook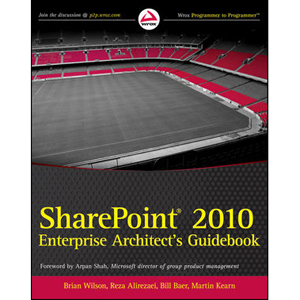 Tips and techniques for becoming a successful SharePoint architect
If you're eager to design and architect a successful deployment of SharePoint 2010, then this is the book for you. Packed with real-world experiences and solid processes, this guidebook provides you with everything you need to perform for designing and architecting enterprise portal services. Helpful examples examine the common design issues affecting SharePoint 2010 environments that can cause deployments to fail so you can learn what to avoid. Plus, key development and deployment issues are covered from an architecture perspective and backup and disaster recovery planning are described at length.
Details the skills and attributes necessary in order to design and architect successful SharePoint 2010 deployments
Provides real-world scenarios and helpful examples of various types of enterprise portal services
Discusses corporate Intranet service, enterprise content management, team collaboration services, enterprise search service, and more
Addresses marketing your SharePoint 2010 solution to users to ensure they are aware of the services you provide
With SharePoint 2010 Enterprise Architect's Guidebook, you'll quickly discover the requirements for designing a successful SharePoint 2010 deployment.
From the Back Cover
Everything you need to design a successful SharePoint® 2010 deployment
Packed with real-world experiences and proven processes, this comprehensive resource provides you with everything you need to design and architect enterprise portal services. An expert team of authors walks you through the SharePoint 2010 enterprise landscape, the SharePoint 2010 platform, enterprise portal services, and a variety of design considerations you should take into account. In addition, helpful examples explore common design issues that affect SharePoint 2010 environments—and can cause deployments to fail—so that you can learn the most tried-and-true ways to make your deployment successful.
SharePoint 2010 Enterprise Architect's Guidebook:
Walks you through SharePoint fundamentals and explains how Microsoft uses SharePoint 2010
Addresses working with internal and external data in SharePoint 2010
Helps you define your SharePoint 2010 portal strategy and get started with your SharePoint 2010 program and project
Offers helpful advice for designing your SharePoint 2010 solution and infrastructure architectures
Demonstrates how to develop, test, and deploy your SharePoint 2010 solution
Devotes chapters to Business Connectivity Services, business intelligence services, forms services, and records management services
Table of Contents
Part I: SharePoint Architect Knowledge Requirements
Chapter 1. A Digital Workforce for a Digital Age
Chapter 2. Understanding the Enterprise Landscape
Chapter 3. Supporting Technology Knowledge Requirements
Chapter 4. Design Principles for Successful Deployments
Chapter 5. Learning How Microsoft Uses SharePoint 2010
Part II: The SharePoint 2010 Platform
Chapter 6. SharePoint Fundamentals
Chapter 7. Evolution of SharePoint
Chapter 8. SharePoint 2010 Features and Capabilities
Chapter 9. Understanding SharePoint 2010 Service Applications
Chapter 10. SharePoint 2010 Platform Architectures
Chapter 11. Working with Internal and External Data in SharePoint 2010
Part III: Architecting Enterprise Portal Services
Chapter 12. Defining Your SharePoint 2010 Portal Strategy
Chapter 13. Getting Started with Your Program and Projects
Chapter 14. Designing Your Information Architecture
Chapter 15. Designing Your Solution Architecture
Chapter 16. Designing Your Infrastructure Architecture
Chapter 17. Designing Your Storage Layer
Chapter 18. Developing, Testing, and Deploying Your SharePoint 2010 Solution
Chapter 19. Designing Your Authentication and Authorization Model
Chapter 20. Defi ning Your Governance Model and Approach
Chapter 21. Defi ning Your Business Continuity Management Plan
Chapter 22. Designing for Cloud-Based Solutions and Multi-Tenancy Services
Chapter 23. Designing Virtualized Deployments
Part IV: Real-World Service Design Considerations
Chapter 24. Intranet and Internet Publishing Services
Chapter 25. Corporate Information Services
Chapter 26. Business Collaboration Services
Chapter 27. Enterprise Search Services
Chapter 28. Individual and Social Networking Features
Chapter 29. Business Connectivity Services
Chapter 30. Business Intelligence Services
Chapter 31. Forms Services and Workflow
Chapter 32. Records Management Services
Book Details
Paperback: 1128 pages
Publisher: Wrox (April 2012)
Language: English
ISBN-10: 0470643196
ISBN-13: 978-0470643198
Download [140.2 MiB]