Microsoft SharePoint 2013 Inside Out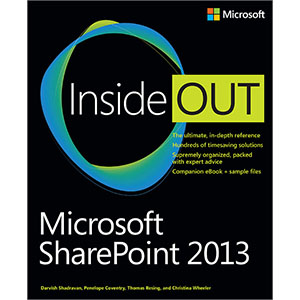 Conquer SharePoint 2013—from the inside out!
You're beyond the basics, so dive right into SharePoint 2013—and really put your business collaboration platform to work! This supremely organized reference packs hundreds of timesaving solutions, troubleshooting techniques, and workarounds. It's all muscle and no fluff. Discover how the experts facilitate information sharing across the enterprise—and challenge yourself to new levels of mastery.
Efficiently manage documents throughout the enterprise
Build team sites and collaborate with Microsoft OneNote and SkyDrive
Design workflows with SharePoint Designer and Microsoft Visio
Produce e-forms using Microsoft InfoPath and Access
Manage community sites using business social features
Connect SharePoint to external data and business systems
Create business intelligence dashboards and key performance indicators
Customize and control Sharepoint enterprise search
Table of Contents
Chapter 1. Introducing SharePoint 2013
Chapter 2. Administration for business users
Chapter 3. Working with list and library apps
Chapter 4. Working with collaboration sites
Chapter 5. Using Office applications with SharePoint
Chapter 6. Sharing information with SharePoint social networking
Chapter 7. Using and creating workflows
Chapter 8. Planning site content
Chapter 9. Creating and formatting content pages
Chapter 10. Adding, editing, connecting, and maintaining web parts
Chapter 11. Managing documents
Chapter 12. Designing web content management sites
Chapter 13. Implementing compliance, records management, and eDiscovery
Chapter 14. Planning for business intelligence and key performance indicators
Chapter 15. Implementing better business intelligence with Excel Services and SQL Server 2012
Chapter 16. Building powerful dashboards with PerformancePoint Services
Chapter 17. Working with Visio Services
Chapter 18. Discovering information with SharePoint 2013 Search
Chapter 19. Creating a customized SharePoint 2013 search experience
Chapter 20. Creating, managing, and designing sites
Chapter 21. Creating enterprise forms
Chapter 22. Working with external content
Chapter 23. Introduction to custom development
Book Details
Paperback: 904 pages
Publisher: Microsoft Press (June 2013)
Language: English
ISBN-10: 0735666997
ISBN-13: 978-0735666993
Download [76.1 MiB]