ServiceDesk Plus 8.x Essentials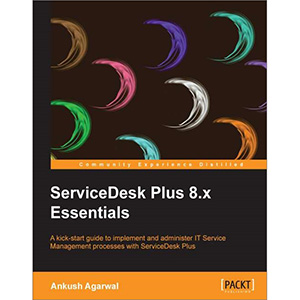 IT service management (ITSM) refers to the implementation and management of quality IT services that meet the needs of your business. ServiceDesk Plus is an integrated web-based helpdesk tool that assists you in planning, setting up, and achieving the timely execution of IT services efficiently.
ServiceDesk Plus 8.x Essentials is a practical, hands-on guide that walks you through the features of ServiceDesk Plus 8.x to help you set up and manage day-to-day IT services. The book also helps you to understand and practice the ITIL methodologies while using the tool for daily operations.
ServiceDesk Plus 8.x Essentials conceptualizes the ITIL framework and takes you through the core processes and their implementation in ServiceDesk Plus 8.x in an easy and practical manner.
The book will also help you to learn the process flows and manage incidents, problems, assets, and configurations while understanding the scope and responsibilities of the helpdesk. It also takes you through controlling changes and releases and highlights the features of the tools. If you need a concise handbook for a complete understanding of the metrics, challenges and risks of ITSM, then you have found the right book.
With ServiceDesk Plus 8.x Essentials, you will learn everything you need to know to administer and manage IT services using ServiceDesk Plus, while making ITIL concepts practical and fun.
What you will learn from this book
Get to grips with the prerequisites and process flows for managing helpdesk activities
Set up ITIL processes easily and quickly in your team/organization
Understand the purpose, objective, and scope of the core processes
Discover and manage IT assets, purchase orders, and contracts
Control changes and deploy successful releases
Manage the Knowledge base, create reports, and schedule backups
Resolve incidents quickly and minimize adverse impact, while avoiding the recurrence of issues
Meet the challenges and minimize risks in maintaining a successful service desk
Approach
This is a practical, hands-on guide that assists you in setting up and efficiently managing ITSM.
Who this book is written for
ServiceDesk Plus 8.x Essentials is for IT helpdesk managers, administrators, and staff, serving as a compendium for service management concepts useful for them.
Book Details
Paperback: 114 pages
Publisher: Packt Publishing (September 2013)
Language: English
ISBN-10: 1849696640
ISBN-13: 978-1849696647
Download [9.5 MiB]