Salesforce CRM: The Definitive Admin Handbook, 2nd Edition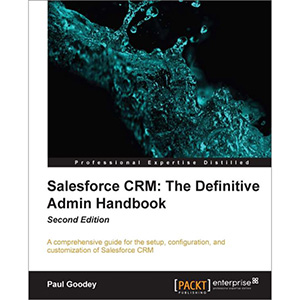 Salesforce CRM: The Definitive Admin Handbook is the complete guide to implementing Salesforce CRM. Whether you are looking to enhance the core features or you have already started customizing your Salesforce CRM system and are looking for guidance on advanced features. This book will show you how to get maximum benefit from this exciting product.
Salesforce CRM is a market-leading customer relationship management (CRM) application that is accessed over the Internet. The CRM application provides facilities to manage sales projections and orders, marketing plans, business process automation and collaboration, service and support, and data analytics. The application greatly enhances a company's sales performance, improves team work and collaboration, and provides a robust customer relationship management strategy for an organization.
Salesforce CRM: The Definitive Admin Handbook has been updated for the Spring '13 release and gives you all the information you need to administer this powerful CRM application.
The book begins with the setup of users and security settings and then progresses to configuration, data management, and data analytics. Finally, the book covers the ways in which the core platform can be further extended and enhanced.
Focused on the needs of the enterprise, this book provides a solution-driven approach for both business and IT specialists to get the most from the Salesforce CRM application. It begins with setting up of organization-wide features that affect the look-and-feel of the application. We will then move on to data management, analytics, process automation and approval mechanisms are then covered, along with the functional areas of Sales Cloud, Service Cloud, Marketing Cloud, and Salesforce Chatter. Finally, we will look into the methods used to further enhance the system and to improve the return on investment from the application.
After reading Salesforce CRM: The Definitive Admin Handbook, you will feel comfortable with the administration features within Salesforce CRM and will have been presented with real-world scenarios to improve the setup and avoid some common pitfalls.
What you will learn from this book
Implement mechanisms to manage login access and determine company-specific information
Manage users within Salesforce CRM using features such as granting login access to administrators and enabling delegated user administration
Configure data structures and user interfaces in Salesforce CRM by using various mechanisms offered by Salesforce CRM
Control object and profile permissions to access data records by using permission sets, sharing rules, criteria-based sharing, and also manual sharing
Configure actions for workflow rules and approval processes to automate and streamline the key business process for your organization
Understand the functional areas within Salesforce CRM for campaigns to customers
Learn to administer and configure complex Salesforce CRM functionality with ease
Approach
A practical guide which will help to discover how to setup and configure the Salesforce CRM application. It offers solutions and practical examples on how to further improve and maintain its functionality with clear systematic instructions. Being highly organized and compact, this book contains detailed instructions with screenshots, diagrams, and tips that clearly describe how you can administer and configure complex Salesforce CRM functionality with absolute ease.
Who this book is for
This book is for administrators who want to develop and strengthen their Salesforce CRM skills in the areas of configuration and system management. Whether you are a novice or a more experienced admin, this book aims to enhance your knowledge and understanding of the Salesforce CRM platform and by the end of the book, you should be ready to administer Salesforce CRM in a real-world environment.
Book Details
Paperback: 426 pages
Publisher: Packt Publishing; Special edition (July 2013)
Language: English
ISBN-10: 1782170529
ISBN-13: 978-1782170525
Download [52.1 MiB]