The Mobile MBA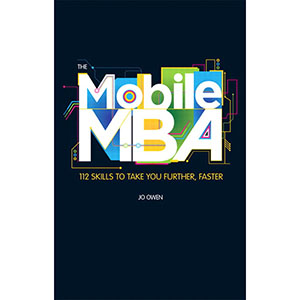 Mobile MBA distills years of MBA management theory into bite-size solutions for 101 critical, "in the trenches" business challenges. From start to finish, this book focuses on what really works in practice, giving managers focused answers that can make them dramatically more effective, instantly. Along the way, leading global business consultant Jo Owen demystifies the MBA, illuminating the simple, common-sense principles that underlie the grand theory (and the even grander MBA hype). Owen reveals what managers need to learn in order to perform at an MBA level, while also giving them the practical skills that an MBA doesn't.
Each of Mobile MBA's eleven chapters is packaged with a Skill Pill, short video briefings that can be delivered directly to mobile devices and computers, offering powerful insights and lessons to managers wherever they are.
From the Back Cover
Is your career progressing as fast as you want it to? Do you love your job but think you could benefit from a business school education? The Mobile MBA delivers all the knowledge you need to fast-track your career.
The Mobile MBA is your portable business coach. It explains MBA skills, models, and applications and shows you how to put the grand theory and big talk into practice.
The Mobile MBA comes complete with 11 free video Skill-Pills, which can be downloaded to your smart phone, tablet, or computer. Get access to up-to-date advice on the move so you can apply your new skills where and when you need them.
Table of Contents
The world of strategy
Marketing and sales
Finance and accounting
Human capital
Operations, technology, and change
Lead your team
Dealing with colleagues
Managing across the organization
Managing yourself
The daily skills of management
Manage your career
Book Details
Paperback: 208 pages
Publisher: FT Press (May 2012)
Language: English
ISBN-10: 0133066339
ISBN-13: 978-0133066333
Download [2.3 MiB]