ProBlogger's Guide to your First Week of Blogging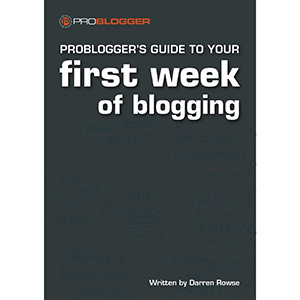 It can be overwhelming when starting a blog. You've got a lot of decisions to make…
niche selection
audience targeting
content planning
social media and promotions
post ideas
and more
Making great early choices is vital to the long-term success of your blog. My new ebook guides you, day by day, through your first week of blogging so you can make the most of those critical first few days.
A System that Works
Your First Week of Blogging encapsulates the lessons I've learned, and the insights I've gained, over eight years and more than 30 new blogs.
The ebook takes a systematic approach to the tasks that I believe are essential in the first week of a blog's life. It's the model I use for every new blog I start.
Learn foundational brainstorming techniques.
Create a content plan—and content, of course!
Build a social media presence.
Create practical quality assurance tools.
Set up a publishing process.
Master the components of a blog post.
Develop your blog's ongoing strategy.
Easy to Understand, Simple to Follow — All you need is a Maximum 90 minutes per Day
Your First Week of Blogging
Over seven practical chapters, the complex blogging workload is broken into daily tasks that focus on key aspects of blogging:
Day 1: Set solid foundations.
Day 2: Publish and build presence.
Day 3: Concentrate on content.
Day 4: Understand the blog as a product.
Day 5: Put yourself out there.
Day 6: Define and demonstrate quality.
Day 7: Strategize for success.
The best thing about this guide is that it's not just about the 'theory' of blogging – it's broken down into 32 achievable tasks that you can actually DO to get your blog moving forward.
Time estimates are given for each task—you won't spend more than about 90 minutes on your blog each day.
Who is it for?
ProBlogger's Guide to your First Week of Blogging is for anyone at the beginning of their blogging journey who wants to start with solid foundations including:
Those thinking about starting a new blog
Those in their very first week of blogging
Those looking to start a 2nd or 3rd blog who want to do it better
Book Details
Paperback: 52 pages
Publisher: ProBlogger (May 2011)
Language: English
Download [3.4 MiB]