Joomla! Search Engine Optimization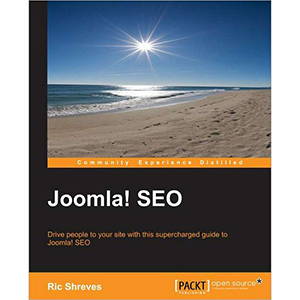 Joomla! is an award-winning content management system (CMS), which enables you to build websites and powerful online applications. SEO, or Search Engine Optimization, is the process and techniques by which you optmize the content and style of your site in order to induce more people to view it.
Joomla! Search Engine Optimization will help you develop and execute an effective search engine optimization strategy for your site. From planning to implementation, the book covers best practices in contemporary SEO.
In Joomla! Search Engine Optimization you will learn how to develop a dynamic and productive SEO campaign. Covering both the basics of campaign development as well as the daily work it takes to maintain your SEO competitiveness, this book will show you how to produce a distinct and appropriate strategy for your particular site. In particular you will learn key phrase selection and competitor analysis and the correct groundwork for your dynamic SEO campaign.
Joomla! Search Engine Optimization will then show you, by finding the right combination of extensions, how to supercharge your site. You will also be given a guided tour of key SEO services, like Google and Bing Webmaster, in order to implement a progressive and effective link building campaign. You will then learn key expert tips and tricks to enable you to build SEO-effective content which will take your site from invisible to unmissable with little effort.
What you will learn from this book
Gain an understanding of how the search engines function.
Develop an SEO strategy for your site.
Select the most effective key phrases.
Configure your Joomla! site to be search engine-friendly.
The top extensions you can install to enhance your Joomla! Sites' search engine optimization.
Execute a link building campaign.
Develop content that advances your search marketing goals.
What the most important factors to track with Google Analytics are.
Approach
The book will take a hands-on approach to the process involved in configuring a site for SEO. As SEO is an ongoing process – it doesn't stop once the site is built – the book will provide reusable tips and techniques in order to understand what they have to do after the site is live.
Who this book is for
This book targets site builders, webmasters and site owners. Advanced technical skills are not required, though the user should be familiar with administering a Joomla! website, including how to install Extensions.
Book Details
Paperback: 116 pages
Publisher: Packt Publishing (July 2012)
Language: English
ISBN-10: 1849518769
ISBN-13: 978-1849518765
Download [5.9 MiB]