Packet Guide to Routing and Switching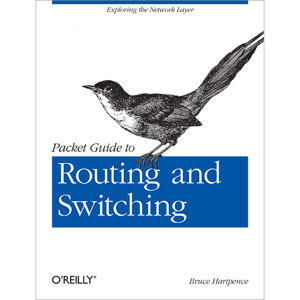 This book will cover structure, behavior and fields, all of which will be supported by packet captures and analysis. This second installment will cover layers 2 and 3 and is concerned with the key protocols and operations. It is meant to be a follow up to the first book in the sense that these are more advanced ideas that assume and/or build on the previous ideas. For example, it is difficult to understand routing without first understanding IP. This book will be written to a depth that will serve experts and those first learning about these topics.
 Table of Contents
Chapter 1 Routing and Switching Strategies
Chapter 2 Host Routing
Chapter 3 Spanning Tree and Rapid Spanning Tree
Chapter 4 VLANs and Trunking
Chapter 5 Routing Information Protocol
Chapter 6 Open Shortest Path First
About the Author
Bruce is a faculty member in the Network, Security and Systems Administration (NSSA) Department in the Golisano College of Computing and Information Science (GCCIS) at Rochester Institute of Technology (RIT) in Rochester, New York. He splits his time between teaching, projects and writing.
Book Details
Paperback: 180 pages
Publisher: O'Reilly Media (August 2011)
Language: English
ISBN-10: 1449306551
ISBN-13: 978-1449306557
Download [9.9 MiB]