Oracle SOA Suite 11g Performance Tuning Cookbook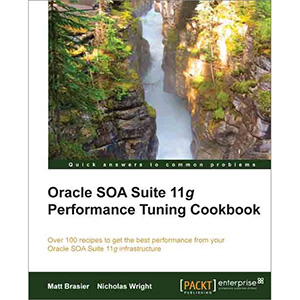 Oracle SOA Suite 11g forms the heart of many organisations' Service Oriented Architecture. Yet for such a core component, simple information on how to tune and configure SOA Suite and its infrastructure is hard to find. Because Oracle SOA Suite 11g builds on top of a variety of infrastructure components, up until now there has been no one single complete reference that brings together all the best practices for tuning the whole SOA stack.
Oracle SOA Suite 11g Performance Cookbook contains plenty of tips and tricks to help you get the best performance from your SOA Suite infrastructure. From monitoring your environment so you know where bottlenecks are, to tuning the Java Virtual Machine, WebLogic Application Server, and BPEL and BPMN mediator engines, this book will give you the techniques you need in a easy to follow step-by-step guide.
Starting with how to identify problems, and building on that with sections on monitoring, testing, and tuning, the recipes in this book will take you through many of the options available for performance tuning your application.
There are many considerations to make when trying to get the best performance out of the Oracle SOA Suite platform. This performance Cookbook will teach you the whole process of tuning JVM garbage collection and memory, tuning BPEL and BPMN persistence settings, and tuning the application server. This book focuses on bringing together tips on how to identify the key bottlenecks in the whole SOA Suite infrastructure, and how to alleviate them.
The Oracle SOA Suite 11g Performance Cookbook will ensure that you have the tools and techniques to get the most out of your infrastructure, delivering reliable, fast, and scalable services to your enterprise.
What you will learn from this book
Monitor your SOA Suite environment
Configure the memory available to the Java Virtual Machine
Tune the Java garbage collector
Configure a WebLogic server to handle large loads
Tune BPEL, BPMN, and Mediator engines
Performance test your application
Design your SOA Suite components for maximum performance
Configure a cluster of SOA Suite servers
Tune the operating system and virtualization layers for SOA Suite
Approach
This is a Cookbook with interesting, hands-on recipes, giving detailed descriptions and lots of practical walkthroughs for boosting the performance of your Oracle SOA Suite.
Who this book is written for
This book is for Oracle SOA Suite 11g administrators, developers, and architects who want to understand how they can maximise the performance of their SOA Suite infrastructure. The recipes contain easy to follow step-by-step instructions and include many helpful and practical tips. It is suitable for anyone with basic operating system and application server administration experience.
Book Details
Paperback: 328 pages
Publisher: Packt Publishing (July 2013)
Language: English
ISBN-10: 1849688842
ISBN-13: 978-1849688840
Download [37.3 MiB]