Oracle E-Business Suite R12 Supply Chain Management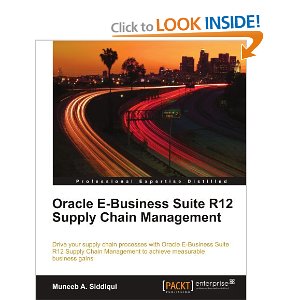 Supply chain operations are turning increasingly global and complex, as companies aspire to support a variety of strategies, such as entering new markets and lowering costs. Oracle E-Business Supply Chain Management R12 provides comprehensive solutions to predict market requirements and align operations across global networks. However to implement these solutions, you need to gain a solid understanding of the various Oracle EBS modules used in supply chain processes.
Oracle E-Business Suite R12 Supply Chain Management will guide you to successfully configure and implement the various Oracle EBS modules for supply chain management. With this book in hand, you will be able to learn from scratch what Oracle EBS is and how it works in the supply chain management's domain. Backed by ample screenshots and clear explanation, the book will demonstrate the business flow of the entire application.
This book is an excellent learning resource for Oracle application supply chain modules. It begins by explaining the fundamentals of supply chain management and why it is necessary to use Oracle applications for supply chain management. If you have just begun using Oracle Applications, this book will give you a clear picture of the working and interface of Oracle E-Business Suite. It then progressively moves forward to demonstrate the step-by-step configuration of various Oracle EBS SCM modules.This book also covers all the transaction flows in detail, and shows how we carry out transactions in different modules. The chapters also explain the business and process flow of the modules that are configured.
By the end of this book, you will have learned to automate all your supply chain management processes thereby increasing profitability and customer satisfaction.
A hands-on training guide that empowers you to learn and configure Oracle E-Business Suite R12 SCM modules effectively and efficiently
What you will learn from this book :
Explore the concepts of Supply Chain Management
Apply the comprehensive solutions offered by Oracle E-Business suite for supply chain management
Get to grips with the working and interface of Oracle E-Business suite
Use Oracle Advanced Supply Chain Planning to plan your entire supply chain management process
Create and maintain sales orders with Oracle Order Management
Configure Oracle Purchasing to create internal and purchase requisitions
Set up Oracle Landed Cost Management to manage the actual and estimated cost of items
Configure Inventory Management to automate the management of raw materials, finished goods, and services
Create different costing methods for your inventory organization with Oracle Cost Management
Efficiently manage all the complex pricing scenarios of your business with Oracle Advanced Pricing
Discover how implementation takes place in the real world with a business case study
Approach
This is a practical tutorial written in a clear and easy-to-understand style taking the reader through relevant, real-world examples that can be put into practice immediately. It contains detailed instructions and plenty of screenshots to make it easier for readers to understand Oracle E-Business Suite and work on it effectively.
Who this book is written for
This book is aimed at all those who are working on Oracle E-Business Suite, such as administrators and consultants. End users who want to explore Oracle supply chain management will also find the book extremely useful. No prior knowledge of Oracle EBS SCM is required to get going with this book.
Book Details
Paperback: 292 pages
Publisher: Packt Publishing (December, 2010)
Language: English
ISBN-10: 1849680647
ISBN-13: 978-1849680646
Download [6.8 MiB]