Nikon D7100 Digital Field Guide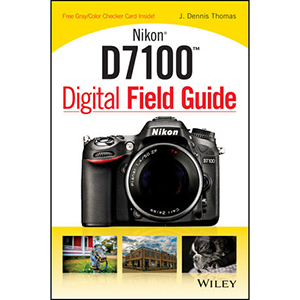 Everything you need to know to take full advantage of your Nikon D7100
As a well-rounded, feature-rich dSLR, the new Nikon D7100 is a compact lightweight camera that is loaded with sophisticated features. This full-color guide is packed with expert advice that will both educate and inspire you to take amazing photographs with your Nikon D7100. Filled with stunning images by author and photographer J. Dennis Thomas, this guide goes beyond the owner's manual to offer you helpful tips, tricks, and techniques for using the camera's many features and explains when and how to use each function.
Features a handy trim size so the book can go where you go, allowing you to frequently refer to the professional-level techniques for capturing memorable photos and handling tricky situations
Includes full-color images of each menu screen to reinforce your understanding
Contains a grey and color checker card to help you capture perfect white balance and color in any environment
Shares helpful examples that offer advice on taking portraits, candids, sports, travel, macro photography, and much more
Nikon D7100 Digital Field Guide is the perfect portable companion to your new Nikon D7100!
Table of Contents
Chapter 1. Exploring the Nikon D7100
Chapter 2. Nikon D7100 Essentials
Chapter 3. Setting up the Nikon D7100
Chapter 4. Selecting and Using Lenses with the Nikon D7100
Chapter 5. Controlling Exposure
Chapter 6. Working with Light
Chapter 7. Working with the Live View and Video Modes
Chapter 8. Viewing, Downloading, Managing, and Editing Images
Chapter 9. Advanced Topics
Appendix A. General Composition Tips
Appendix B. Accessories
Appendix C. Color Checker
Book Details
Paperback: 320 pages
Publisher: Wiley (June 2013)
Language: English
ISBN-10: 1118509374
ISBN-13: 978-1118509371
Download [79.4 MiB]