Calvinize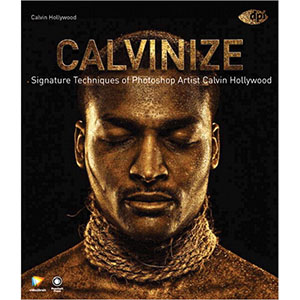 Calvin Hollywood is a photo artist from Heidelberg, Germany who combines photography and image editing in a most imaginative way. His personal style is characterized by the hyper sharpness, high contrasts, and almost painted look of his photos (http://www.calvinhollywood-blog.com/portfolio/). Digital editing plays an important role in his photographic work, but Hollywood emphasizes getting the shot right from the start. He considers lighting very important, but the surroundings and the model's styling are also key and he always tries to factor textures and details into the shot.
This photo collection contains more than 100 of Calvin Hollywood's most spectacular pictures as well as his thoughts on topics such as Photoshop, plug-ins, outfits, lighting, planning, time management, and more.
The book also comes with over four hours of video tutorials created and produced by Video2Brain, creators of the popular Learn By Video series. In the videos, Hollywood walks viewers step-by-step through his signature techniques and shows readers exactly how he used them to create many of the images featured in the book.
All of Peachpit's eBooks contain the same content as the print edition. You will find a link in the last few pages of your eBook that directs you to the media files.
Helpful tips:
If you are able to search the book, search for "Where are the lesson files?"
Go to the very last page of the book and scroll backwards.
You will need a web-enabled device or computer in order to access the media files that accompany this ebook. Entering the URL supplied into a computer with web access will allow you to get to the files.
Depending on your device, it is possible that your display settings will cut off part of the URL. To make sure this is not the case, try reducing your font size and turning your device to a landscape view. This should cause the full URL to appear.
Book Details
Paperback: 144 pages
Publisher: Peachpit Press (March 2011)
Language: English
ISBN-10: 9780321772794
ISBN-13: 978-0321772794
Download [13.6 MiB]