Networking All-in-One For Dummies, 5th Edition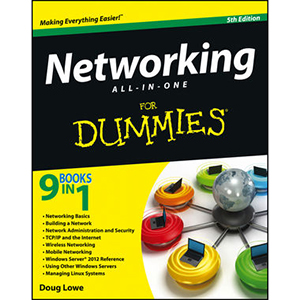 The bestselling guide for network administrators, fully updated for Windows 8
If you're responsible for a network, large or small, this book is your one-stop resource for all the essential details you need to know. Fully updated to cover Windows 8 and Windows Server 2012, it features the latest on broadband technologies, storage, backup procedures, and all the current networking trends. Nine handy minibooks cover the basics, building a network, administration and security, TCP/IP and the Internet, wireless networking, mobile networking, Windows Server 2012, using other Windows servers, and managing Linux systems.
A proven bestseller, with more than 111,000 copies sold in four previous editions
Written by veteran IT expert Doug Lowe, who has more than 50 technology books to his credit
Provides one-stop shopping for everything networking professionals need to keep large or small networks functioning efficiently
Updated with the latest information on building and administering a network, security, wireless and mobile networking, using Windows servers, working with Linux systems, and much more
Networking All-in-One For Dummies, 5th Edition provides what network administrators need to know in a handy, easy-to-use reference.
From the Back Cover
Handling a network? This one handy book covers all the essentials you need to know!
If you're in charge of a network, here's all the basic information you need to get it up and running and keep it, and your users, happy. Neatly divided into self-contained minibooks so you can quickly find what you need, this new edition covers the latest on mobile networking, Windows Server 2012, security, and much more, in one convenient package!
Networking 101 — if you're new to networking, here's an overview of standards, hardware, network operating systems, and other essentials
Get started — create a plan, install the hardware and operating system, configure Windows, and explore VMWare®
Administrative tasks — keep software updated, manage user accounts, and implement solid security
Internet access — learn the ins and outs of TCP/IP
Skip the wires — set up, secure, and troubleshoot a wireless network
Smartphone smarts — safely manage iPhones, iPads, Android phones, BlackBerry devices, and netbooks on your network
Serving up servers — learn about the latest version of Windows Server 2012, IIS Web Server, Exchange Server 2010, and others
Love Linux — all about installing, managing, and configuring Linux for networking
Open the book and find:
Network protocols and standards
How virtualization technologies help manage servers
The five most common network bottlenecks
All about DHCP and DNS
Security tips for wireless networks
How to configure VPN access
What Active Directory® does for you
Basic Linux network configuration
9 books in 1
Networking Basics
Building a Network
Network Administration and Security
TCP/IP and the Internet
Wireless Networking
Mobile Networking
Windows Server® 2012 Reference
Using Other Windows Servers
Managing Linux Systems
Book Details
Paperback: 912 pages
Publisher: For Dummies; 5th Edition (November 2012)
Language: English
ISBN-10: 1118380983
ISBN-13: 978-1118380987
Download [18.6 MiB]