MOS 2010 Study Guide for Microsoft Word Expert, Excel Expert, Access, and SharePoint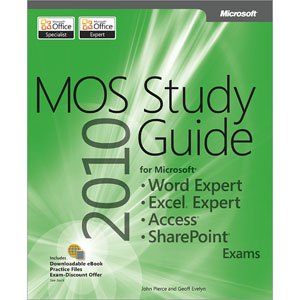 Demonstrate your expertise with Microsoft Office! Designed to help you practice and prepare for four Microsoft Office Specialist (MOS) exams, this all-in-one study guide features:
Full, objective-by-objective exam coverage
Easy-to-follow procedures and illustrations to review essential skills
Hands-on practice tasks to apply what you've learned; files included
Online pre-test to assess your readiness
Use the in-depth exam prep, practice, and review to help advance your proficiency with Microsoft Office—and earn the credential that proves it!
Exams covered:
77-887: MOS: Microsoft Office Word 2010 Expert
77-888: MOS: Microsoft Office Excel 2010 Expert
77-885: MOS: Microsoft Office Access 2010
77-886: MOS: Microsoft SharePoint 2010
Companion Content includes:
Practice files for each exam
Fully searchable eBook
Sample chapters from five STEP BY STEP books from Microsoft Press (TBD)
Additional eBooks and resources
Special Offer: Exam discount plus free online pre-test!
Get 25% off your MOS exam fee and a free Microsoft Official Pre-Test from Certiport
Use the pre-test to assess your skill level and get feedback on your results, including a custom learning plan
See details on the Certiport offer page inside
Book Details
Paperback: 720 pages
Publisher: Microsoft Press (August 2011)
Language: English
ISBN-10: 0735657882
ISBN-13: 978-0735657885
Download [34.2 MiB]