Architecting Complex-Event Processing Solutions with TIBCO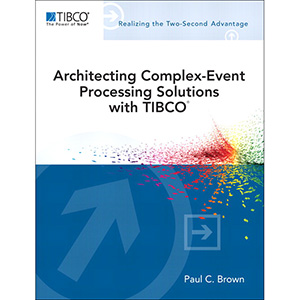 "Complex-event processing is simple in principle but hard to do well in practice. This guide presents the principles and motivations for those new to the subject. More importantly, it details the entire thought-landscape of a complete implementation, using TIBCO products as the background. Well worth the read for anyone who is thinking of implementing a complex-event solution. Those who have already implemented one should read it as well, both for another perspective and for a view of the capabilities of the TIBCO products."
—Lloyd Fischer, Senior Software Architect, WellCare Health Plans
"This complete guide drives you through the specifics of complex-event processing (CEP) design concepts. The book covers all the fundamental aspects and design phases relevant for any TIBCO CEP project implementation, from design through performance-tuning and deployment. I would highly recommend this book to any reader interested in CEP concepts, although a small amount of TIBCO technology knowledge will let you appreciate it more."
—Antonio Bruno, Infrastructure Account Manager, UBS AG
The architecture series from TIBCO® Press comprises a coordinated set of titles for software architects and developers, showing how to combine TIBCO components to design and build real-world solutions.
Complex-event processing is required when multiple events occurring throughout an organization must be sensed, analyzed, prioritized, and acted on in real time. Architecting Complex-Event Processing Solutions with TIBCO® shows how to design and architect complex-event processing systems, addressing all their complexities and achieving maximum efficiency and effectiveness, while delivering superior business value.
After reading this book, you will be able to
Identify opportunities for competitive differentiation through complex-event processing
Describe differences between complex-event processing and traditional systems
Understand relevant capabilities of the TIBCO BusinessEvents™ product suite
Select building-block design patterns for constructing complex-event processing solutions with TIBCO BusinessEvents
Address architectural aspects of moving solutions into production
Implement proven approaches to designing fault tolerance and high availability
Architecting Complex-Event Processing Solutions with TIBCO® is intended for working architects, designers, and developers who want to apply TIBCO products in complex-event processing applications. It is also required reading for anyone seeking TIBCO Certified Architect status.
Table of Contents
Part I: Getting Started
Chapter 1. The Event-Enabled Enterprise
Chapter 2. Concepts
Chapter 3. CEP Solution Design Patterns
Part II: Technology
Chapter 4. TIBCO BusinessEvents®
Chapter 5. Inference Agents
Chapter 6. Cache Agents
Chapter 7. Query Agents
Chapter 8. Process Agents
Chapter 9. Dashboard Agents
Part III: Design Patterns
Chapter 10. Solution Basics
Chapter 11. Event Pattern Recognition
Chapter 12. Integration
Chapter 13. Solution Modularization Patterns
Chapter 14. Common Design Challenges
Part IV: Deployment
Chapter 15. Case Study. Nouveau Health Care
Chapter 16. Performance
Chapter 17. Deployment Planning
Chapter 18. Fault Tolerance, High Availability, and Site Disaster Recovery
Chapter 19. Best Practices
Book Details
Paperback: 320 pages
Publisher: Addison-Wesley Professional (September 2013)
Language: English
ISBN-10: 0321801989
ISBN-13: 978-0321801982
Download [24.9 MiB]