Moodle as a Curriculum and Information Management System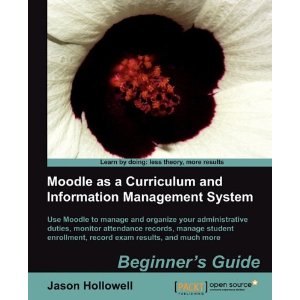 Moodle is the most widely used Learning Management System in the world. Moodle is primarily used as an online learning course platform and few people know how to use it in any other way. However, Moodle can also be used as a management system. By adapting Moodle to become a curriculum and information management system, you can keep your administrative tasks in the same place as your lesson plans by managing student attendance records, recording grades, sharing reports between departments, and much more
Moodle as a Curriculum and Information Management System will show you how you can use Moodle to set up an environment that enables you to disseminate information about your educational program, provides a forum for communication amongst all those involved in your institution, and even allows you to control your course registration and enrollment. This book is written on version 1.9 and also includes examples applicable to version 2.0.
This book will show you how to create courses and organize them into categories. You will learn to assign teachers to each course, which will greatly help you to manage timetables and student enrolment, which can otherwise be a very frustrating and time consuming task. You will learn how to display the different aspects of your Curriculum and Information Management System to make it easily accessible and navigable for staff and students alike, ensuring that everyone knows what they are doing and where they are meant to be
A practical step-by-step guide to expand the functionality of your Moodle learning management system
What you will learn from this book
Create hundreds of courses in Moodle via the Bulk Course Creation tool with ease
Add multiple web pages to your Moodle site that can all be accessed by anyone visiting the front page of your site
Use Moodle to keep attendance records for your institution
Ideas about how Moodle can be used as a grade submission tool
Deliver program-wide assessment tests using the Moodle Quiz module
Create different roles, with specifically defined access capabilities, in your Moodle site for educational administrators
Install and use several advanced plugins that allow you to access student related information and data that is stored in the Moodle database
Different ways of using your Moodle database as a Student Information System
Expedite the communication and information flow within your institution using Moodle modules
Manage the course registration and enrollment for your institution using contributed Moodle enrollment plugins
Approach
This book is a beginner's guide in which the reader is led, step-by-step, to accomplish all the tasks right from installing Moodle to transforming into a CMS. Some more advanced steps and concepts are presented but always in a manner that allows beginners to follow along and learn through experience as they experiment on their own test site. By the time you finish the book, you will have your own fully-functional curriculum and information management system.
Book Details
Paperback: 308 pages
Publisher: Packt Publishing (January, 2011)
Language: English
ISBN-10: 1849513228
ISBN-13: 978-1849513227
Download [11.3 MiB]