Microsoft Word 2010 In Depth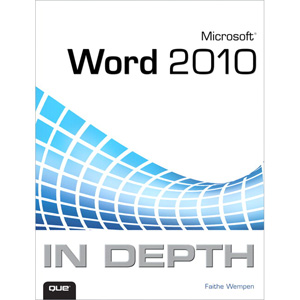 Beyond the Basics…Beneath the Surface…In Depth
Advice and techniques that you need to get the job done.
Looking for ways to streamline your work so you can focus on maximizing your time? In Depth provides specific, tested, and proven solutions to the problems you run into every day—things other books ignore or oversimplify. This is the one book you can rely on to answer the questions you have now and will have in the future.
In Depth offers
Comprehensive coverage with detailed solutions
Breakthrough techniques and shortcuts that are unavailable elsewhere
Practical, real-world examples with nothing glossed over or left out
Troubleshooting help for tough problems you can't fix on your own
Outstanding authors recognized worldwide for their expertise and teaching style
Quick information via sidebars, tips, reminders, notes, and warnings
In Depth is the only tool you need to get more done in less time!
About the Author
Faithe Wempen, M.A., is a Microsoft Office Master Instructor and the author of more than 100 books on computer hardware and software. An adjunct instructor of computer information technology at Purdue University, she specializes in Office applications and PC hardware architecture. In addition, she writes and teaches online courses in Office applications and Microsoft Windows for Powered.com; her online courses in Office applications for corporate clients including Hewlett-Packard, CNET, and Sony have educated more than a quarter of a million students. Faithe is an A+ certified PC technician and the author of several textbooks on PC repair and maintenance. In her spare time (!), she owns and operates a small bed and breakfast in central Indiana.
Book Details
Paperback: 984 pages
Publisher: Que (August 2010)
Language: English
ISBN-10: 0789743116
ISBN-13: 978-0789743114
Download [51.7 MiB]