Clout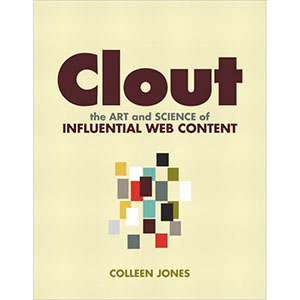 Results. Everyone wants them, whether to sell more products, spread good ideas, or win more funding. In our busy digital world, the way to results is influencing people on the web. But how?
An ad campaign won't cut it. A Twitter account doesn't guarantee it. Manipulative tricks will backfire. Instead, you need quality, compelling web content that attracts people and engages them for the long haul.
Clout explains the key principles of influence and how to apply them to web content. Along the way, those principles come to life with practical examples from HowStuffWorks.com, Newell Rubbermaid, Centers for Disease Control and Prevention, and many more brands. With this book, you'll:
Discover why a technology feature, marketing campaign, SEO effort, or redesign aren't enough to influence online.
Understand the business value of compelling web content.
Learn 8 principles for influence from the art of rhetoric and the science of psychology.
Find out what context is and why it's so important to influence.
Jump start your planning for content with a content brief.
Learn how to evaluate your web content and determine whether it's making a difference.
Foreword by Karen McGrane, managing partner of Bond Art + Science
Table of Contents
Part I: THE CROSSROADS
Chapter 1. Same Road, Same (Lack of) Results
Chapter 2. A Harder but Higher Road
Part II: THE PRINCIPLES
Chapter 3. Context: Where Clout Begins and Ends
Chapter 4. Rhetoric: The Art of Influence
Chapter 5. Psychology: The Science of Influence
Part III: THE CLIMB
Chapter 6. Plan
Chapter 7. Persist through Roadblocks
Chapter 8. Prepare to Evaluate
Chapter 9. Evaluate with the Right Methods
Chapter 10. Adjust
Chapter 11. Reach the Top—But Don't Stop
Book Details
Paperback: 240 pages
Publisher: New Riders Press (December 2010)
Language: English
ISBN-10: 0321733010
ISBN-13: 978-0321733016
Download [8.2 MiB]