Microsoft Exchange Server 2013 PowerShell Cookbook, 2nd Edition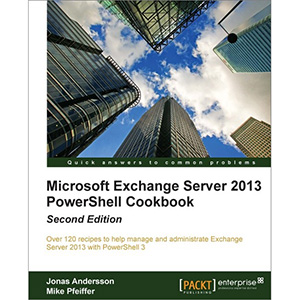 Microsoft Exchange Server 2013 is a complex messaging system. Windows PowerShell 3 can be used in conjunction with Exchange Server 2013 to automate and manage routine and complex tasks to save time, money, and eliminate errors.
Microsoft Exchange Server 2013 PowerShell Cookbook: Second Edition offers more than 120 recipes and solutions to everyday problems and tasks encountered in the management and administration of Exchange Server. If you want to write scripts that help you create mailboxes, monitor server resources, and generate detailed reports, then this Cookbook is for you.
This practical guide to Powershell and Exchange Server 2013 will help you automate and manage time-consuming and reoccurring tasks quickly and efficiently. Starting by going through key PowerShell concepts and the Exchange Management Shell, this book will get you automating tasks that used to take hours in no time.
With practical recipes on the management of recipients and mailboxes as well as distribution groups and address lists, this book will save you countless hours on repetitive tasks. Diving deeper, you will then manage your mailbox database, client access, and your transport servers with simple but effective scripts.
This book finishes with advanced recipes on Exchange Server problems such as server monitoring as well as maintaining high availability and security. If you want to control every aspect of Exchange Server 2013 and learn how to save time with PowerShell, then this cookbook is for you.
What you will learn from this book
New features and capabilities of PowerShell 3 and Exchange Server 2013
Get to grips with the core PowerShell concepts required to master the Exchange Management Shell such as pipelining, working with objects, formatting output, and writing scripts
Use simple PowerShell scripts and commands for powerful effect
Monitor server resources including CPU, memory, disk, event logs, and more using PowerShell
Generate detailed reports, send the output of commands in e-mail messages, and schedule scripts to run automatically
Import, export, move mailboxes, and delete messages from mailboxes using the command line
Configure transport server settings such as mail relay, tracking logs, transport rules, delivery reports, and more
Manage mailbox and public folder databases
Approach
This book is written in a Cookbook-style format and provides practical, immediately usable task-based recipes that show you how to manage and maintain your Microsoft Exchange Server 2013 environment with Windows PowerShell 3. Each chapter of the book is written so that it can be used as a desktop reference, or it can be read from beginning to end, allowing you to build a solid foundation for building scripts in your Exchange environment.
Who this book is for
This Cookbook is for messaging professionals who want to learn how to build real-world scripts with Windows PowerShell 3 and the Exchange Management Shell. If you are a network or systems administrator responsible for managing and maintaining Exchange Server 2013 you will find this highly useful. Only basic knowledge of Exchange Server and PowerShell are required to make the most of this book.
Book Details
Paperback: 504 pages
Publisher: Packt Publishing; 2nd Edition (May 2013)
Language: English
ISBN-10: 1849689423
ISBN-13: 978-1849689427
Download [16.1 MiB]