A Practical Guide to Fedora and Red Hat Enterprise Linux, 6th Edition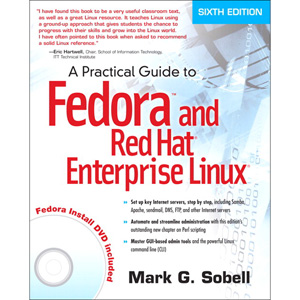 "I have found this book to be a very useful classroom text, as well as a great Linux resource. It teaches Linux using a ground-up approach that gives students the chance to progress with their skills and grow into the Linux world. I have often pointed to this book when asked to recommend a solid Linux reference."
–Eric Hartwell, Chair, School of Information Technology, ITT Technical Institute
The #1 Fedora and RHEL resource—a tutorial AND on-the-job reference
Master Linux administration and security using GUI-based tools, the command line, and Perl scripts
Set up key Internet servers, step by step, including Samba, Apache, sendmail, DNS, LDAP, FTP, and more
Master All the Techniques You Need to Succeed with Fedora™ and Red Hat® Enterprise Linux®
In this book, one of the world's leading Linux experts brings together all the knowledge you need to master Fedora or Red Hat Enterprise Linux and succeed with it in the real world. Best-selling author Mark Sobell explains Linux clearly and effectively, focusing on skills you'll actually use as a user, programmer, or administrator. Now an even more versatile learning resource, this edition adds skill objectives at the beginning of each chapter.
Sobell assumes no prior Linux knowledge. He starts at the beginning and walks you through every topic and task that matters, using easy-to-understand examples. Step by step, you'll learn how to install and configure Linux from the accompanying DVD, navigate its graphical user interface, provide file/print sharing, configure network servers, secure Linux desktops and networks, work with the command line, administer Linux efficiently, and even automate administration with Perl scripts.
Mark Sobell has taught hundreds of thousands of Linux and UNIX professionals. He knows every Linux nook and cranny—and he never forgets what it's like to be new to Linux. Whatever you want to do with Linux—now or in the future—you'll find it here.
Compared with the other Linux books out there, A Practical Guide to Fedora™ and Red Hat® Enterprise Linux®, Sixth Edition, delivers
Complete, up-to-the-minute coverage of Fedora 15 and RHEL 6
State-of-the-art security techniques, including up-to-date firewall setup techniques using system-config-firewall and iptables, and a full chapter on OpenSSH (ssh)
Coverage of crucial topics such as using su and sudo, and working with the new systemd init daemon
Comprehensive coverage of the command line and key system GUI tools
More practical coverage of file sharing using Samba, NFS, and FTP
Superior coverage of automating administration with Perl
More usable, realistic coverage of Internet server configuration, including Apache (Web), sendmail, NFSv4, DNS/BIND, and LDAP, plus new coverage of IPv6
More and better coverage of system/network administration tasks, including network monitoring with Cacti
Deeper coverage of essential administration tasks—from managing users to CUPS printing, configuring LANs to building a kernel
Complete instructions on keeping Linux systems up-to-date using yum
And much more, including a 500+ term glossary and comprehensive indexes
Review
"Since I'm in an educational environment, I found the content of Sobell's book to be right on target and very helpful for anyone managing Linux in the enterprise. His style of writing is very clear. He builds up to the chapter exercises, which I find to be relevant to real-world scenarios a user or admin would encounter. An IT/IS student would find this book a valuable complement to their education. The vast amount of information is extremely well balanced and Sobell manages to present the content without complicated asides and meandering prose. This is a 'must have' for anyone managing Linux systems in a networked environment or anyone running a Linux server. I would also highly recommend it to an experienced computer user who is moving to the Linux platform."
–Mary Norbury, IT Director, Barbara Davis Center, University of Colorado at Denver, from a review posted on slashdot.org
"I had the chance to use your UNIX books when I when was in college years ago at Cal Poly, San Luis Obispo, CA. I have to say that your books are among the best! They're quality books that teach the theoretical aspects and applications of the operating system."
–Benton Chan, IS Engineer
"The book has more than lived up to my expectations from the many reviews I read, even though it targets FC2. I have found something very rare with your book: It doesn't read like the standard technical text, it reads more like a story. It's a pleasure to read and hard to put down. Did I say that?! :-)"
–David Hopkins, Business Process Architect
"Thanks for your work and for the book you wrote. There are really few books that can help people to become more efficient administrators of different workstations. We hope (in Russia) that you will continue bringing us a new level of understanding of Linux/UNIX systems."
–Anton Petukhov
"Mark Sobell has written a book as approachable as it is authoritative."
–Jeffrey Bianchine, Advocate, Author, Journalist
"Excellent reference book, well suited for the sysadmin of a Linux cluster, or the owner of a PC contemplating installing a recent stable Linux. Don't be put off by the daunting heft of the book. Sobell has striven to be as inclusive as possible, in trying to anticipate your system administration needs."
–Wes Boudville, Inventor
"A Practical Guide to Red Hat® Linux® is a brilliant book. Thank you, Mark Sobell."
–C. Pozrikidis, University of California at San Diego
"This book presents the best overview of the Linux operating system that I have found. . . . [It] should be very helpful and understandable no matter what the reader's background: traditional UNIX user, new Linux devotee, or even Windows user. Each topic is presented in a clear, complete fashion and very few assumptions are made about what the reader knows. . . . The book is extremely useful as a reference, as it contains a 70-page glossary of terms and is very well indexed. It is organized in such a way that the reader can focus on simple tasks without having to wade through more advanced topics until they are ready."
–Cam Marshall, Marshall Information Service LLC, Member of Front Range UNIX Users Group [FRUUG], Boulder, Colorado
"Conclusively, this is THE book to get if you are a new Linux user and you just got into RH/Fedora world. There's no other book that discusses so many different topics and in such depth."
–Eugenia Loli-Queru, Editor in Chief, OSNews.com
Book Details
Paperback: 1224 pages
Publisher: Prentice Hall; 6th Edition (August 2011)
Language: English
ISBN-10: 0132757273
ISBN-13: 978-0132757270
Download [32.4 MiB]