Microsoft Dynamics GP 2013 Financial Management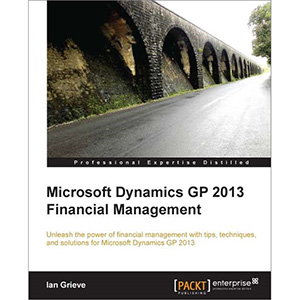 Microsoft Dynamics GP 2013 is a mature accounting software, ERP application, which is aimed at making life easier for financial professionals. This book is to assist readers in improving their use of Microsoft Dynamics GP by showing them how to get the most out of the financial aspect of the system.
Microsoft Dynamics GP 2013 Financial Management is intended to add value to your organization by making use of additional modules and processes by introducing readers, new or experienced, to some of the financial management modules of Dynamics GP, such as Analytical Accounting, Cash Flow Management, and Encumbrance Management.
Microsoft Dynamics GP 2013 Financial Management introduces the six essential financial modules. You will get acquainted with accounting to enable reporting, before gaining an oversight into inflow and outflow of cash. Budget studies cover all aspects of budget use in Dynamics GP for comparing actual figures against the budgets created and maintained within the system. The final chapters cover PO Commitments and Encumbrance Management; two sides of the same coin. Both modules allow for the control of purchasing by either committing or encumbering the transactions and preventing overspending.
What you will learn from this book
Improve transaction analysis at a deeper level through the use of analysis codes
Improve oversights of your business by tracking cash flow
Create and maintain budgets in Dynamics to allow easy tracking of actual costs to predicted amounts
Inquire and report on actuals versus budgets in Dynamics GP and Management Reporter
Use PO Commitments to control and track spending
Control purchasing by encumbering transactions to prevent overspending
Approach
A standard tutorial-based approach covering Microsoft Dynamics GP 2013 and its six financial modules. The book is intended to allow users to improve their system use and workflow by introducing new modules to assist in financial management.
Who this book is written for
This book is for you if you're a Dynamics GP partner, or Dynamics GP user, primarily focused on delivering application optimizations. This book assumes that you have a working knowledge of Microsoft Dynamics GP and have an understanding of the requirements of financial management.
Book Details
Paperback: 110 pages
Publisher: Packt Publishing (September 2013)
Language: English
ISBN-10: 1782171304
ISBN-13: 978-1782171300
Download [7.4 MiB]