Mastering the Leadership Role in Project Management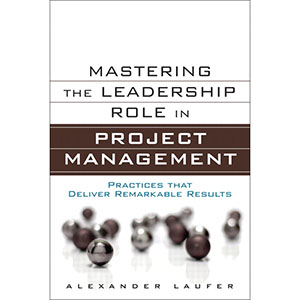 Through eight remarkable case studies, Mastering the Leadership Role in Project Management presents a start-to-finish framework for managing projects of all sizes–even the largest and most challenging projects. World-renowned expert in project management, Alexander Laufer, demonstrates both how to become a great project leader and how to lead your teams in applying the specific project practices that impact success. Laufer and his extraordinary team of contributors focus on "take-home practices" you can use right away, whether you're planning a new project or revitalizing a project that's already in trouble.
You'll discover better and faster ways to adapt to change, learn how to "give up" control without "losing" control, use face-to-face interaction to maximize alignment, manage "no fun" missions in hostile environments, and learn more from your ongoing experience as a project manager. Perhaps most important of all, this book will help you unlearn widespread project management assumptions that prevent success instead of promoting it.
The world's best project leaders show how to:
Master the power of autonomy and learning
Manage creativity through action
Soar higher by combining spirit and systems
Deliver on bold ideas through meticulous preparation and quick response
Accomplish unpleasant tasks by developing a culture of trust and responsibility
Successfully execute multiple interrelated projects by leading upward
Shape culture by exploiting location
Accelerate delivery by "splitting" and "harmonizing"
Become a World-Class Project Leader and Implement World-Class Project Practices
"Alexander Laufer is one of the world's wisest authorities on projects and how they work."
–From the Foreword by Larry Prusak, Founder and Former Executive Director, Institute for Knowledge Management (IKM)
"I thoroughly enjoyed this book! The stories bring home the essence of what good projects need–good leadership. They present real women and men in very difficult situations, who succeed by doing what is right for the project and end up bringing the project team together to believe in the project."
–Charlene ("Chuck") Walrad, Managing Director, Davenport Consulting, Inc.; Vice President, Standards Activities, Board of Governors, IEEE Computer Society
"Alexander Laufer and his colleagues have captured the essence of what project managers must do to deliver remarkable results–no matter where they work–by leading, not following, a scripted checklist."
–W. Scott Cameron, Global Project Management Technology Process Owner, Procter & Gamble Company
"Mastering the Leadership Role in Project Management is required reading for project managers who would like insights on how to improve their skills and get better project results."
–Nadine Chin-Santos, Senior Project Manager, Assistant Vice President, Parsons Brinckerhoff
"Stories help us to learn, and Alexander Laufer's book contains wonderful stories about leadership by great leaders. If you want to lead projects, as opposed to administer them, then read these fascinating stories."
–Jim Highsmith, Executive Consultant, ThoughtWorks; Author, Agile Project Management
"In Mastering the Leadership Role in Project Management, Alexander Laufer introduces us to exceptional project leaders, the best of the best, and allows us to observe, in riveting narratives, how they plan, problem solve, and inspire
their teams to deliver remarkable results."
–Hugh Woodward, Former Chair, Project Management Institute
Table of Contents
Chapter 1. Developing a Missile: The Power of Autonomy and Learning
Chapter 2. Building of Memory: Managing Creativity Through Action
Chapter 3. Flying Solar-Powered Airplanes: Soaring High on Spirit and Systems
Chapter 4. Transferring Harbor Cranes: Delivering A Bold Idea Through Meticulous Preparations and Quick Responsiveness
Chapter 5. A Successful Downsizing: Developing a Culture of Trust and Responsibility
Chapter 6. A Peaceful Evacuation: Building A Multi-Project Battalion by Leading Upward
Chapter 7. Exploring Space: Shaping Culture by Exploiting Location
Chapter 8. Building a Dairy Plant: Accelerating Speed by Splitting and Harmonizing
Book Details
Hardcover: 272 pages
Publisher: FT Press (April 2012)
Language: English
ISBN-10: 0132620340
ISBN-13: 978-0132620345
Download [1.9 MiB]