Microsoft Dynamics CRM 2011 Applications (MB2-868) Certification Guide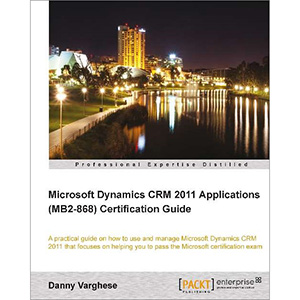 Managing any relationship can be difficult. Microsoft Dynamics CRM 2011 enables an organization to manage their marketing, sales, and service efforts for a customer, and give users a 360 degree view of the customer.
"Microsoft Dynamics CRM 2011 Applications (MB2-868) Certification Guide" will assist individuals in passing the certification exam by reviewing each topic covered by the exam in depth, providing questions to test your knowledge at the end of each chapter, and finally by providing a 75 question practice exam including answers.
You'll start with an introduction to Microsoft Dynamics CRM 2011 along with an overview of the exam, benefits of certification, and helpful exam taking tips.
The following chapters take a deeper look into the CRM application itself covering each of the key modules: marketing, sales, service, and service scheduling. At the end of the book, there is a 75 question sample certification exam.
This book will help you attain the MB2-868 certification, making you more marketable.
What you will learn from this book
Introduce yourself to the certification exam and helpful exam taking tips
Learn about marketing automation and its application to your organization
How to enable an efficient and accurate sales process
Service your customers and get metrics to make sure your customers are truly happy
Schedule and plan for resource allocation if needed while servicing your customers
Prepare for the MB2-868 certification exam with a mock 75 question exam
Approach
This Certification guide will follow a step-by-step approach to instruct the reader what they need to know to be able to become certified with Microsoft Dynamics CRM 2011.
Who this book is for
If you will implement Microsoft Dynamics CRM 2011, this book is for you. You should have a working knowledge of Microsoft Windows, Microsoft Internet Explorer, and Microsoft Office.
Book Details
Paperback: 344 pages
Publisher: Packt Publishing (April 2013)
Language: English
ISBN-10: 1849686505
ISBN-13: 978-1849686501
Download [18.6 MiB]