Mastering Microsoft SharePoint Foundation 2010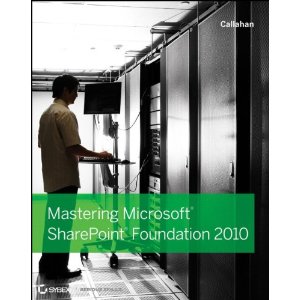 Everything IT professionals need to administer their collaborative environment
SharePoint Foundation 2010 is the newest version of a powerful collaboration tool used in many organizations. This book gets network professionals and business application administrators up to speed on SharePoint Foundation's features, installation procedures, and administration, preparing them to create powerful collaboration structures for their companies.
Microsoft SharePoint Foundation 2010 is the successor to Windows SharePoint Services 3.0 and both stands alone to enable collaboration, and is the underlying technology of SharePoint Server 2010; this guide prepares IT professionals to install and service SharePoint Foundation 2010
Designed for experienced server administrators, this book focuses directly on the skills an administrator would need to master SharePoint Foundation 2010 from the ground up
Covers administration, management, disaster recovery, and migrating from Windows SharePoint Services 3.0 to Windows SharePoint Foundation 2010
Packed with insider tips, tricks, and real-world examples to support the instructions, Mastering Microsoft SharePoint Foundation 2010 gets administrators up to speed quickly on this essential technology.
From the Back Cover
Master the Newest Version of This Powerful Collaboration Tool
This in-depth book is a practical, point-by-point guide for IT professionals who are responsible for installing, configuring, managing, or migrating to Windows SharePoint Foundation (SPF) 2010. The exciting successor to Windows SharePoint Services (WSS) 3.0, SPF 2010 is the newest version of the powerful collaboration tool and offers many new features. Start here to create effective, efficient, collaborative solutions for your company.
This book provides step-by-step coverage of topics system administrators need to know, including creating and administering sites, site collections, web applications, security, and disaster recovery. Gain insight into using and managing web parts, lists, and libraries, as well as configuring features new to SharePoint Foundation such as business data connectivity and multi-tenancy. Learn the practical steps for migrating from WSS 3.0 to SPF 2010 using STSADM, PowerShell, and more.
Coverage includes:
Understanding Windows® SharePoint Foundation 2010–software, hardware, and user interface
Installing SharePoint Foundation 2010 and configuring services
Using, modifying, and creating lists
Setting up libraries for documents, pictures, forms, and wikis
Document Collaboration, checking documents in and out, versioning, and content approval
Working with sites, subsites, and workspaces
Managing security and permissions, site collections, and web applications
Migrating from WSS 3.0 to SPF 2010
Monitoring the SharePoint Foundation server to avoid performance failure
Backing up and restoring SharePoint Foundation, from list to farm
Prepare and Install Standalone and Server Farm Implementations of SharePoint Foundation 2010
Create Document Libraries, Shared Calendars, Surveys, Discussions, Workspaces, or Blogs
Perform Administrative Tasks in Central Administration or with STSADM and PowerShell
Learn Advanced Configuration Techniques
Book Details
Paperback: 1296 pages
Publisher: Sybex (February 2011)
Language: English
ISBN-10: 9780470626382
ISBN-13: 978-0470626382
Download [32.0 MiB]