Microsoft SharePoint 2010: Deploying Cloud-Based Solutions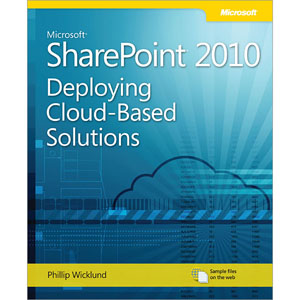 Take your Microsoft SharePoint solutions to the cloud—and gain scalability and high availability while helping to lower your operational costs. Led by a SharePoint expert, you'll learn hands-on how to customize and maintain SharePoint cloud solutions. You also get practical advice for migrating business solutions either to Microsoft SharePoint Online or to a private cloud, using your own data center. This is an ideal guide for IT professionals, architects, and decision makers.
Extend the reach of your SharePoint solutions—in the cloud
Evaluate the ROI for using a public, private, or hybrid cloud solution
Build public cloud solutions on either a shared or dedicated server
Use Microsoft Office 365 for email, messaging, document authoring, and more
Customize SharePoint Online using sandboxed solutions and SharePoint Designer
Control identity management and authentication with Windows PowerShell®
Deploy SharePoint in a private cloud with Hyper-V® and Microsoft System Center
Improve private cloud automation, availability, and data isolation with multi-tenancy
About the Author
Phil Wicklund is a frequent blogger, speaker, and author around SharePoint products and technologies. He started working with SharePoint back in 2003 and has since architected and administered many dozens of corporate SharePoint environments. He started as a SharePoint development instructor for Mindsharp, and has since moved into consulting at RBA Consulting, where he shares real-world insights and in-depth best practices with his clients of many varieties.
Book Details
Paperback: 472 pages
Publisher: Microsoft Press (September 2011)
Language: English
ISBN-10: 073566210X
ISBN-13: 978-0735662100
Download [29.0 MiB]