Mastering Autodesk Revit MEP 2014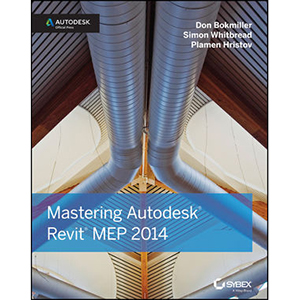 The ultimate reference and tutorial to harness the power of Revit MEP
This Autodesk Official Press book will help you develop your expertise with Revit MEP's core concepts and functionality. Based on the authors' years of real-world experience, this comprehensive reference and tutorial has been updated to cover all of the new features of Revit MEP, and includes best practices, techniques, tips, tricks, and real-world exercises to help you hone your skills.
Shows how to use the interface effectively, explains how to create and use project templates, and details ways you can improve efficiency with worksharing and collaboration
Addresses generating schedules that show quantities, materials, design dependencies, and more
Looks at creating logical air, water, and fire protection systems; evaluating building loads; and placing air and water distribution equipment
Covers lighting, power receptacles and equipment, communication outlets and systems, and circuiting and panels
Zeroes in on creating water systems, plumbing fixtures and their connectors, water piping, and more
Featuring real-world scenarios and hands-on tutorials, this Autodesk Official Press book features downloadable before-and-after tutorial files so that you can compare your finished work to that of the professionals. It's the perfect resource for becoming a Revit MEP expert.
Table of Contents
Part 1: General Project Setup
Chapter 1. Exploring the User Interface
Chapter 2. Creating an Effective Project Template
Chapter 3. Worksets and Worksharing
Chapter 4. Project Collaboration
Chapter 5. Multiplatform Interoperability. Working with 2D and 3D Data
Chapter 6. Parameters
Chapter 7. Schedules
Part 2: Autodesk Revit MEP for Mechanical Design
Chapter 8. HVAC Cooling and Heating Load Analysis
Chapter 9. Creating Logical Systems
Chapter 10. Mechanical Systems and Ductwork
Chapter 11. Mechanical Piping
Part 3: Autodesk Revit MEP for Electrical Design
Chapter 12. Lighting
Chapter 13. Power and Communications
Chapter 14. Circuiting and Panels
Part 4: Autodesk Revit MEP for Plumbing
Chapter 15. Plumbing (Domestic, Sanitary, and Other)
Chapter 16. Fire Protection
Part 5: Managing Content in Autodesk Revit MEP
Chapter 17. Solid Modeling
Chapter 18. Creating Symbols and Annotations
Chapter 19. Creating Equipment
Chapter 20. Creating Lighting Fixtures
Chapter 21. Creating Devices
Chapter 22. Details
Chapter 23. Sheets
Book Details
Paperback: 720 pages
Publisher: Sybex (June 2013)
Language: English
ISBN-10: 1118604199
ISBN-13: 978-1118604199
Download [47.3 MiB]