Nuke 101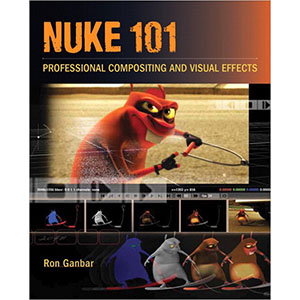 For many visual effects artists who are just starting out or are moving from After Effects, Shake, Fusion, or another compositing tool, they are learning that Nuke is quickly becoming the feature film compositing industry standard. While there are several online turorials and courses available, there is currently no book on the market for those who need to know all the ins and outs of the software. Until now.
Nuke 101 covers everything readers need to know to begin using the compositor for their projects. It includes step-by-step lessons on basic and advanced compositing, color correction, Roto Paint, keying, tracking, as well as more advanced topics such as using CGI and the 3D engine.
The projects used throughout the book are based on real-world examples of professional production work and offer hard-worn advice from the pros who work in the trenches on high-end compositing work. After reading the techniques and following along in the projects, readers will have a solid foundation for working in Nuke and be able to join the ranks of its many fans and adopters.
All of Peachpit's eBooks contain the same content as the print edition. You will find a link in the last few pages of your eBook that directs you to the media files.
Helpful tips:
If you are able to search the book, search for "Where are the lesson files?"
Go to the very last page of the book and scroll backwards.
You will need a web-enabled device or computer in order to access the media files that accompany this ebook. Entering the URL supplied into a computer with web access will allow you to get to the files.
Depending on your device, it is possible that your display settings will cut off part of the URL. To make sure this is not the case, try reducing your font size and turning your device to a landscape view. This should cause the full URL to appear.
Table of Contents
chapter 1. Getting Started with Nuke
chapter 2. Touring the Interface with a Basic Composite
chapter 3. Compositing CGI with Bigger Node Trees
chapter 4. Color Correction
chapter 5. 2D Tracking
chapter 6. RotoPaint
chapter 7. Keying
chapter 8. Compositing Hi-Res Stereo Images
chapter 9. The Nuke 3D Engine
chapter 10. Camera Tracking
chapter 11. Camera Projection
chapter 12. Customizing Nuke with Gizmos
Book Details
Paperback: 464 pages
Publisher: Peachpit Press (April 2011)
Language: English
ISBN-10: 0321733479
ISBN-13: 978-0321733474
Download [53.2 MiB]