3ds max 6 Killer Tips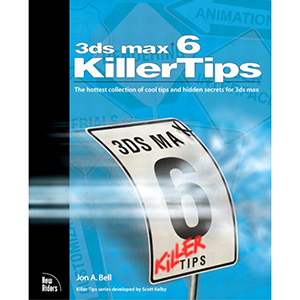 3ds max 6 Killer Tips features 275 hot tips–all illustrated, all in full color, for all levels of 3ds max users, from newbie to advanced. Get instant help on UI customization, modeling, animation, lighting, materials and texturing, rendering (including mental ray 3 secrets), the Reactor dynamics system, Particle Flow, Bones and IK, the Portable License Utility, and more! Learn how to enhance your 3ds max renderings with programs such as Adobe Photoshop and Discreet Combustion! Speed up your workflow and create stunning effects with more than 40 MAXScript tips, created by guest contributor and scripting expert Borislav Petrov.
Written and edited by Jon A. Bell, professional 3D artist (The Discovery Channel, The History Channel, National Geographic) and author of the best-selling 3D Studio MAX f/x book series, 3ds max 6 Killer Tips is a must-have reference for every 3ds max 6 artist!
Table of Contents
Chapter 1. Nuts and Bolts User Interface and Customization Tips
Chapter 2. Sculpting the Body Modeling and Modifier Tips
Chapter 3. Waxing the Finish Materials Tips
Chapter 4. Highlighting the Chrome Lighting Tips
Chapter 5. Making It Move Animation Tips
Chapter 6. Making It Beautiful Rendering Tips
Chapter 7. Custom Features Special Effects Tips
Chapter 8. Detailing the Chassis MAXScript Tips
Chapter 9. Consulting the Manual Tips on Miscellaneous Features
Chapter 10. Aftermarket Accessories Tips for Using Other Programs with 3ds max
Book Details
Paperback: 320 pages
Publisher: New Riders Press (February 2004)
Language: English
ISBN-10: 0735713863
ISBN-13: 978-0735713864
Download [217.3 MiB]