Mastering Autodesk Maya 2014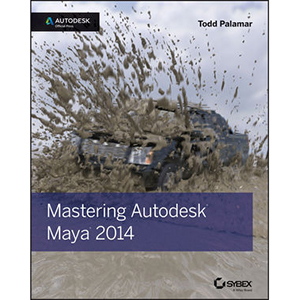 Hands-on intermediate-to-advanced coverage of the leading 3D software
Autodesk Maya is the industry-leading 3D animation and effects software used in movies, visual effects, games, and other genres. If you already know the basics of Maya and are ready to elevate your skills, then this book is for you. Nearly 1,000 pages are packed with organized, professional, and valuable insight on the leading 3D application on the market, enabling you to unlock the software's more complex features. Ideal as both a tutorial and study guide for the Autodesk Maya exam, this Autodesk Official Press book gets you up to speed on Maya's latest features and expands your skills with advanced instruction on cloth, fur, and fluids.
Features challenging tutorials and real-world scenarios from some of the leading professionals in the industry
Provides you with valuable insight into the entire CG production pipeline
Covers the very latest Maya 2014 tools and features, including updates to dynamics, Maya muscle, stereo cameras, assets, rendering with mental ray, and more
Helps you gain proficiency in high-level techniques for film, television, game development, and more
If you've been looking for a complete, professional quality Maya resource to turn to again and again, look no further than Mastering Autodesk Maya 2104.
Table of Contents
Chapter 1. Working in Autodesk Maya
Chapter 2. Virtual Filmmaking
Chapter 3. Modeling I
Chapter 4. Modeling II
Chapter 5. Animation Techniques
Chapter 6. Animating with Deformers
Chapter 7. Rigging and Muscle Systems
Chapter 8. Paint Effects
Chapter 9. Lighting with mental ray
Chapter 10. mental ray Shading Techniques
Chapter 11. Texture Mapping
Chapter 12. Rendering for Compositing
Chapter 13. Introducing nParticles
Chapter 14. Dynamic Effects
Chapter 15. Fur, Hair, and Clothing
Chapter 16. Maya Fluids
Book Details
Paperback: 936 pages
Publisher: Sybex (July 2013)
Language: English
ISBN-10: 1118574966
ISBN-13: 978-1118574966
Download [102.2 MiB]