Marketing in the Round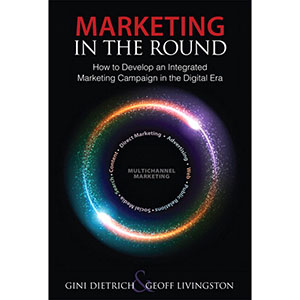 Drive more value from all your marketing and communications channels–together! Demolish your silos and sync all your messaging, strategies, and tactics (really!). Optimize every medium and platform, from iPad and Facebook to TV and direct. This book is a must-read for every senior marketing, communications, and PR decision-maker.
It's not about social media. Or new (or old) media. It's about results—and there's only one way to get results. You must finally bite the bullet, tear down your silos, and integrate all your marketing and communications. That's how you choose the best platforms and messages for each customer. That's how you make research and metrics work. That's how you overcome today's insane levels of complexity and clutter.
You're thinking: Oh, that's all I need to do? "Just" integrate my whole organization? Are you nuts? No. We're not. It can be done. This book's authors have done it. They've shown others how to do it. And now they're going to show you. Step by step. Strategy. Tactics. Research. Metrics. Culture. Social. Mobile. Direct. Broadcast. Print. All of it. With you, the marketing/communications decision-maker, right at the center…right where you belong!
Even now, organizational silos prevent most companies from conversing coherently with customers, delivering the right targeted messages, and building real synergies across all their marketing and communications programs. Now, Gini Dietrich and Geoff Livingston show how to finally break down those silos, bridging traditional and newer disciplines to drive more value from all of them.
You'll learn how to create a flexible marketing hub with integrated spokes including sales, PR, advertising, customer service, HR, social media, and the executive team. Then, you'll learn how to use your hub to speak cohesively with each customer through the tools and platforms that deliver the best results at the lowest cost. Dietrich and Livingston guide you through hands-on strategic planning, illustrating key points with real case studies and offering practical exercises for applying their principles. You'll learn how to perform baseline analyses of media from iPad apps to radio, optimize resource allocation, change culture to overcome siloed behavior, use measurement to clear away obstacles, and gain more value from every marketing investment you make.
Pull it all together–finally!
How to successfully integrate your tactics, tools, messages, and teams
Better goals, better results: beyond "SMART" to "SMARTER"
Specific, measurable, attainable, relevant, time-bound, evaluate, and reevaluate
Better listening: stakeholders, customers, and research that works
How to make sure you hear what really matters
Four powerful ways to market in the round
When to go direct, come from above, use the groundswell, or execute flanking maneuvers
"Dietrich and Livingston have given us a practical guide and checklist for organizations to tear down the organizational silos that stand in the way of getting successful marketing results in a networked media age."
–Beth Kanter, coauthor of Networked Nonprofit
"Dietrich and Livingston's latest book, Marketing in the Round, provides readers with an inspiring view into the pragmatic science of seventeenth-century Japanese martial combat and its keen relevance to the reinvigorated practice of 'Integrated Marketing Communications' (IMC). The authors teach new empathetic and ubiquitous campaign strategies that bring IMC well into the twenty-first century. Comprehensive social and traditional media strategies are delivered 'in the round,' providing practitioners with credible and meaningful tactics, unrestricted by conventional limits of reach and frequency."
–Mark Meudt, vice president of communications and marketing for General Dynamics; author of "Supporting Uncle Sam: Ideas for a Unique Integrated Communications Strategy," Northwestern University, Medill School, Journal of Integrated Marketing Communications, 2011
"I've been following Gini and Geoff for years, and they are the real deal! In this book, the authors offer an actionable, no-nonsense approach to what it will take on every level to actually communicate and connect with your stakeholders. If you have the stomach for breaking down budget silos, holding yourself accountable to measurable objectives, and embracing a commonsense approach to communication, you'll be the big winners for it."
–Leo Bottary, vice president public affairs, Vistage International; adjunct professor, Seton Hall University, Master of Arts in strategic communication and leadership (MASCL) program
"Round up the troops and knock down the silos! Gini Dietrich and Geoff Livingston deliver a practical playbook for leaders who want to solve the challenges and unleash the value of integrated marketing communications to drive bottom-line results."
–Scott Farrell, president, Global Corporate Communications
Book Details
Hardcover: 224 pages
Publisher: Que (April 2012)
Language: English
ISBN-10: 0789749173
ISBN-13: 978-0789749178
Download [2.9 MiB]