Microsoft Office 365 Administration Inside Out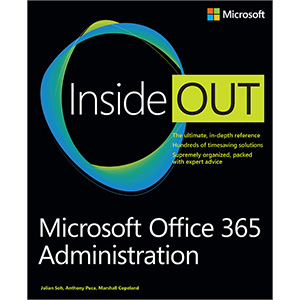 Conquer Microsoft Office 365 administration—from the inside out!
Dive into Office 365 administration—and really put your systems expertise to work! This supremely organized reference packs hundreds of timesaving solutions, troubleshooting tips, and workarounds. Discover how the experts tackle deployment, configuration, and management—and challenge yourself to new levels of mastery.
Simplify enterprise deployment with planning tools and tasks
Automate Office 365 processes with Windows PowerShell
Manage user identity with Active Directory and Single Sign-On
Monitor and maintain the health of Office 365 with Microsoft System Center
Implement Microsoft Exchange Online, SharePoint Online, and Lync Online
Control variables in an Exchange Server hybrid implementation
Customize and deploy Office 365 Professional Plus
Explore real-world scenarios and apply insider management tips
For Intermediate to Advanced IT Professionals
Table of Contents
Part 1: Introducing Office 365
Chapter 1. The Business Case for the Cloud
Part 2: Planning and Preparing to Deploy Office 365
Chapter 2. Office 365 Foundations: Identity Management
Chapter 3. Active Directory Federation Services
Chapter 4. Directory Synchronization
Part 3: Office 365 Foundations: Monitoring and Automation
Chapter 5. Monitoring Office 365 with System Center
Chapter 6. Customizing Operations Manager Reports and Dashboards for Office 365
Chapter 7. Automating Office 365 Management Using Orchestrator
Chapter 8. Office 365 and Service Manager Automation
Chapter 9. Windows PowerShell for Office 365
Part 4: Integrating and using Office 365 Services
Chapter 10. Introducing Exchange Online
Chapter 11. Planning and Deploying Hybrid Exchange
Chapter 12. Mailbox Migration and Administering Exchange Online
Chapter 13. SharePoint Online
Chapter 14. Lync Online
Chapter 15. Office 365 Professional Plus
Part 5: Advanced topics: Incorporating Office 365 with Windows Azure
Chapter 16. Advanced Concepts and Scenarios for Office 365
Part 6: Appendix
Appendix A. Windows PowerShell Scripts for Office 365
Book Details
Paperback: 870 pages
Publisher: Microsoft Press (October 2013)
Language: English
ISBN-10: 0735678235
ISBN-13: 978-0735678231
Download [116.5 MiB]