Manage Partitions with GParted How-to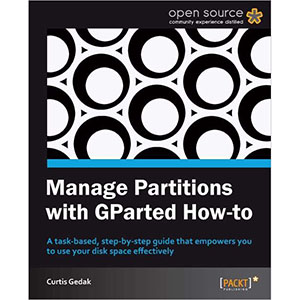 Modern disk drives can store vast amounts of information. To effectively use all of this space, you can partition disk drives into separate storage areas. These separate storage areas enable you to organize your data, improve system performance, and install and use many operating systems
"Manage Partitions with GParted" is a practical, hands-on guide providing you with step-by-step instructions to effectively organize your hard drive. You start with simple tasks that help you identify drives and partitions and progress to advanced tasks such as preparing for new operating systems
This book provides ample screen shots to help you effectively use your hard drive. You start with simple tasks that help you to identify drives and partitions. Next you progress to tasks covering the basics of how to grow, shrink, move, and copy partitions without data loss. You finish with advanced tasks that use the basics to prepare for new operating systems, migrate space between partitions, and share data among Windows, Linux, and Mac OS X.
By following through the tasks, from basic to advanced, this book will empower you with the knowledge and tools to Manage Partitions with GParted.
What you will learn from this book
Learn the basics of partition management, such as how to grow, shrink, move, and copy partitions without data loss
Prepare new disk devices for use on your computer
Free up space for new operating systems
Create live media and run GParted
Prepare for dual booting with GNU/Linux
Rescue data from lost partitions
Learn tips to edit iPod partitions, and to add space to virtual machines
Approach
This book is a practical, task-based, step-by-step tutorial that starts simple with identifying disk device partitions, and culminates with advanced tasks such as preparing for new operating systems.
Who this book is written for
Are you a computer enthusiast who is looking forward to learn how to effectively use your disk space through disk partitions to maximize your computer's potential? Then this book is for you.
Book Details
Paperback: 86 pages
Publisher: Packt Publishing (November 2012)
Language: English
ISBN-10: 184951982X
ISBN-13: 978-1849519823
Download [7.9 MiB]