Microsoft System Center: Optimizing Service Manager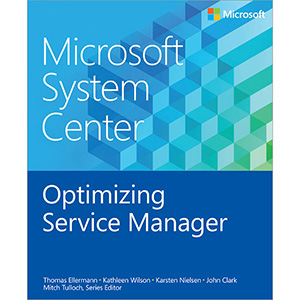 Welcome to Microsoft System Center: Optimizing Service Manager. We (the authors) all work with systems management at Microsoft and believe that the Microsoft System Center suite is one of the most integrated suites on the market for this purpose.
Microsoft System Center 2012 Service Manager is the only product that can integrate across most of the System Center suite and Active Directory. Service Manager is a fast and reliable product that can create and maintain a dynamic service management database to enable interaction across the organization, both inside and outside the IT department, making it a very compelling product to many organizations.
Over the last several years, more and more customers have implemented Service Manager, either independently or via Microsoft or a partner. Sometimes the project and product implementation are not as successful as they should be. Our objectives with this book are to provide you with a framework for planning and delivering a successful Service Manager project and to share some of our experiences and best practices when it comes to optimizing and maintaining your Service Manager environment.
This book is written with three different roles in mind: business and technical decision makers; IT architects; and Service Manager administrators. You can either read this book in its entirety from A to Z, or you can follow one of the learning paths below depending on your role
Table of Contents
Business and technical decision makers:
Chapter 1. Business reasons to choose Service Manager
Chapter 2. Deployment costs and non-IT usage
IT architects
Chapter 3. How to plan for Service Manager
Chapter 4. How to prepare for a Service Manager installation
Service Manager administrators
Chapter 5. Management packs
Chapter 6. Optimizing the Service Manager environment
Chapter 7. Service Manager configuration and customization
Book Details
Paperback: 98 pages
Publisher: Microsoft Press (December 2013)
Language: English
ISBN-10: 0735683123
ISBN-13: 978-0735683129
Download [22.7 MiB]