Make: Technology on Your Time Volume 29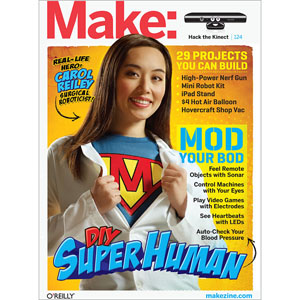 The first magazine devoted entirely to do-it-yourself technology projects presents its 29th quarterly edition for people who like to tweak, disassemble, recreate, and invent cool new uses for technology.
MAKE Volume 29 takes bio-hacking to a new level. Get introduced to DIY tracking devices before they hit the consumer electronics marketplace. Learn how to build an EKG machine to study your heartbeat, and put together a DIY bio lab to study athletic motion using consumer grade hardware.
Reviews
AWESOME!!
If you like to build things or learn about the areas of fabrication, creation, wiring and the like, this is the issue for you.
Home Automation, ABS Plastic fabrication, the works
About the Author
Mark Frauenfelder is a writer and illustrator living in Los Angeles, and the editor of MAKE. He is the cofounder of the popular Boing Boing weblog and was an editor at Wired from 1993-1998.
Book Details
Paperback: 176 pages
Publisher: O'Reilly Media / Make (January 2012)
Language: English
ISBN-10: 1449309941
ISBN-13: 978-1449309947
Download [34.7 MiB]