Environmental Monitoring with Arduino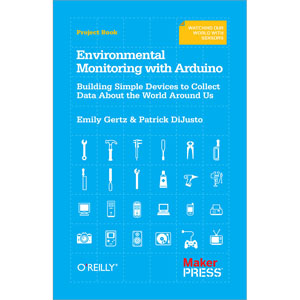 After the devastating tsunami in 2011, DYIers in Japan built their own devices to detect radiation levels, then posted their finding on the Internet. Right now, thousands of people worldwide are tracking environmental conditions with monitoring devices they've built themselves. You can do it too!
This inspiring guide shows you how to use Arduino to create gadgets for measuring noise, weather, electromagnetic interference (EMI), water purity, and more. You'll also learn how to collect and share your own data, and you can experiment by creating your own variations of the gadgets covered in the book. If you're new to DIY electronics, the first chapter offers a primer on electronic circuits and Arduino programming.
Use a special microphone and amplifier to build a reliable noise monitor
Create a gadget to detect energy vampires: devices that use electricity when they're "off"
Examine water purity with a water conductivity device
Measure weather basics such as temperature, humidity, and dew point
Build your own Geiger counter to gauge background radiation
Extend Arduino with an Ethernet shield—and put your data on the Internet
Share your weather and radiation data online through Pachube
Table of Contents
Chapter 1. The World's Shortest Electronics Primer
Chapter 2. Project: Noise Monitor/LED Bar Output
Chapter 3. New Component: 4Char Display
Chapter 4. Detecting Electromagnetic Interference (and making bad music)
Chapter 5. Project: Water Conductivity/Numerical Output
Chapter 6. New Component: Ethernet Shield
Chapter 7. Project: Humidity, Temperature & Dew Point/4Char Display
Chapter 8. Real-Time, Geo-Tagged Data Sharing with Pachube
Chapter 9. Project: Radiation Counter/Sharing Data on the Internet
Chapter 10. Casing the Gadget
Book Details
Paperback: 98 pages
Publisher: O'Reilly Media / Make (January 2012)
Language: English
ISBN-10: 1449310567
ISBN-13: 978-1449310561
Download [18.5 MiB]