Make: 3D Printing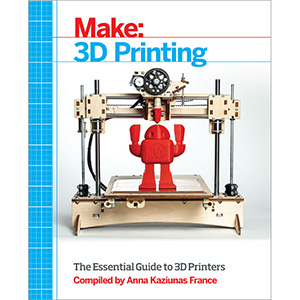 The 3D printing revolution is well upon us, with new machines appearing at an amazing rate. With the abundance of information and options out there, how are makers to choose the 3D printer that's right for them? MAKE is here to help, with our Ultimate Guide to 3D Printing. With articles about techniques, freely available CAD packages, and comparisons of printers that are on the market, this book makes it easy to understand this complex and constantly-shifting topic.
Based on articles and projects from MAKE's print and online publications, this book arms you with everything you need to know to understand the exciting but sometimes confusing world of 3D Printing.
Table of Contents
Part I: Hardware
Chapter 1. Getting Started with a 3D Printer
Chapter 2. 3D Printer Guide
Part II: Software
Chapter 3. Software for 3D Printing
Chapter 4. 3D Design for the Complete Beginner
Chapter 5. Getting Started with Slic3r
Part III: 3D Scanning
Chapter 6. Creating and Repairing 3D Scans
Chapter 7. Print Your Head in 3D!
Part IV: Materials
Chapter 8. Plastics for 3D Printing
Chapter 9. Industrial Materials and Methods
Part V: Services
Chapter 10. 3D Printing Without a Printer
Chapter 11. Service Providers
Part VI: Finishing Techniques
Chapter 12. How to Dye Your 3D Prints
Chapter 13. Post-Processing Your Prints
Chapter 14. Weathering Your Prints
Part VII: Applications
Chapter 15. The Promise of 3D Printing
Chapter 16. 3D Printed Gallery
Chapter 17. Dream Machine
Chapter 18. Desert Manufacturer
Chapter 19. How I Printed a Humanoid
Part VIII: Other Ways to Make 3D Objects
Chapter 20. Milling 3D Objects
Chapter 21. White Chocolate Skulls in PLA Trays
Chapter 22. Printcrime
Book Details
Paperback: 232 pages
Publisher: Maker Media, Inc (November 2013)
Language: English
ISBN-10: 1457182939
ISBN-13: 978-1457182938
Download [48.6 MiB]