Letting Go of the Words, 2nd Edition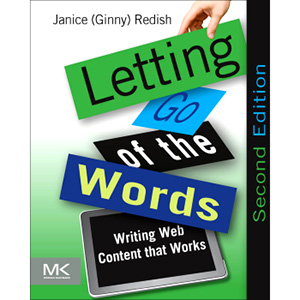 Web site design and development continues to become more sophisticated. An important part of this maturity originates with well-laid-out and well-written content. Ginny Redish is a world-renowned expert on information design and how to produce clear writing in plain language for the web. All of the invaluable information that she shared in the first edition is included with numerous new examples. New information on content strategy for web sites, search engine optimization (SEO), and social media make this once again the only book you need to own to optimize your writing for the web.
New material on content strategy, search engine optimization, and social media
Lots of new and updated examples
More emphasis on new hardware like tablets, iPads, and iPhones
Table of Contents
Chapter 1. Content! Content! Content!
Chapter 2. Planning: Purposes, Personas, Conversations
Chapter 3. Designing for Easy Use
Chapter 4. Starting Well: Home Pages
Chapter 5. Getting There: Pathway Pages
Chapter 6. Breaking up and Organizing Content
Chapter 7. Focusing on Conversations and Key Messages
Chapter 8. Announcing Your Topic With a Clear Headline
Chapter 9. Including Useful Headings
Chapter 10. Tuning up Your Sentences
Chapter 11. Using Lists and Tables
Chapter 12. Writing Meaningful Links
Chapter 13. Using Illustrations Effectively
Chapter 14. Getting from Draft to Final
Chapter 15. Test! Test! Test!
Book Details
Paperback: 368 pages
Publisher: Morgan Kaufmann; 2nd Edition (August 2012)
Language: English
ISBN-10: 0123859301
ISBN-13: 978-0123859303
Download [35.3 MiB]