Mastering the Fujifilm X-E1 and X-Pro1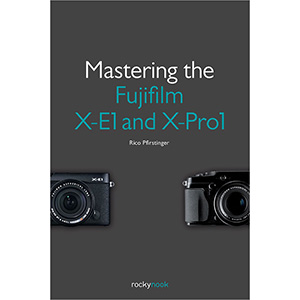 Mastering the Fujifilm X-E1 and X-Pro1 provides a wealth of experienced-based information and insights for owners of Fuji's mirrorless X-E1 and X-Pro1 system cameras. Readers will learn about the features and capabilities of these cameras and will discover numerous tips and tricks for how to maximize their potential. The book also covers lenses and key accessories, as well as various post-processing options.
With the X-E1 and X-Pro1, Fujifilm released two affordable mirrorless system cameras with APS-C sensors that rival modern full-frame cameras. The successful combination of high-end retro design and state-of-the-art digital camera technology, originally seen in the X100 viewfinder camera, has now been pushed even further. The systems offer a number of FUJINON interchangeable zoom and prime lenses, and several more have been announced.
In a layout suitable to the cameras' attractive design, this manual presents imagery that attests to the fun you will have as you begin to push the envelope of your Fujifilm X-E1 or X-Pro1.
Table of Contents
Chapter 1. AN OVERVIEW OF THE X-MOUNT SYSTEM
Chapter 2. SHOOTING WITH THE X-E1 AND X-PRO1
About the Author
Rico Pfirstinger studied communications and has been working as journalist, publicist, and photographer since the mid-80s. He has written a number of books on topics as diverse as Adobe PageMaker and sled dogs, and produced a beautiful book of photographs titled Huskies in Action. He has spent time working as the head of a department with the German Burda-Publishing Company and served as chief editor for a winter sports website.
After eight years as a freelance film critic in Los Angeles, Rico now lives in Germany and devotes his time to digital photography and compact camera systems.
Book Details
Paperback: 284 pages
Publisher: Rocky Nook (October 2013)
Language: English
ISBN-10: 1937538311
ISBN-13: 978-1937538316
Download [49.2 MiB]