Landscape Photography: From Snapshots to Great Shots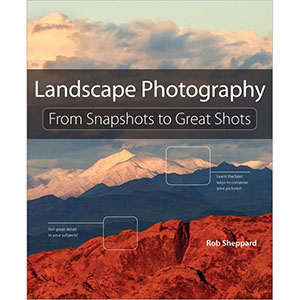 Now that you've bought that amazing new DSLR, you need a book that goes beyond the camera manual to capture stunning images. For photographers interested in landscape photography, this guide will help you conquer the fundamentals and take amazing outdoor shots.
Pro photographer Rob Sheppard starts with the basics–composition, light, and perspective–and describes how to connect with your scene. He covers all the key camera features that affect your image, including how changing focal lengths alters your perspective and the aperture's direct correlation with depth of field. Once you've captured those shots, Rob takes you through simple post-processing steps in Lightroom, Photoshop, and Photoshop Elements.
This guide is for beginning-to-intermediate digital photographers to understand the basics and bring their own unique artistic expression to landscapes and outdoor shooting. Beautifully illustrated with large and compelling photos, this book teaches you how to take control of your photography to get the image you want every time you pick up the camera.
Table of Contents
Chapter 1. Equipment
Chapter 2. Seeing As Your Camera Sees
Chapter 3. Light
Chapter 4. Composition
Chapter 5. Perspective, Space and Depth of Field
Chapter 6. Sky
Chapter 7. Connecting with the Subject and Scene
Chapter 8. Black-and-White
Chapter 9. High Dynamic Range Landscapes
Chapter 10. Traditional Darkroom Work in the Computer
Book Details
Paperback: 264 pages
Publisher: Peachpit Press (May 2012)
Language: English
ISBN-10: 032182377X
ISBN-13: 978-0321823779
Download [114.7 MiB]