Nikon D7100 For Dummies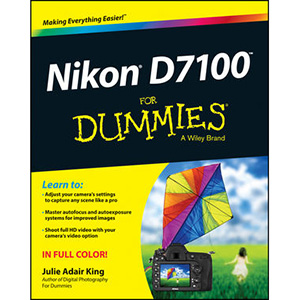 A must-have, full-color guide to the Nikon D7100
The Nikon D7100 is an ideal camera for beginning photographers who may lack structured photography training but are still eager and determined to take great photos. And that s where this fun-and-friendly guide comes in handy! Packed with more than 300 full-color photos, this introductory guide begins by helping you get a feel for the camera, get comfortable shooting in auto mode, managing playback options, and handle basic troubleshooting strategies. Veteran author Julie Adair King walks you through the D7100's features and encourages you to take creative control so that you can start capturing stunning pictures immediately.
Packs in more than 300 full-color photos that exemplify the basic photo skills needed to get great shots
Shares a wealth of information from one of the most popular digital photography authors
Walks you through adjusting manual settings to get better results from exposure, lighting, focus, and color
Contains an entire chapter on video mode
Explains how to send images to a computer for organizing, editing, and sharing
Nikon D7100 For Dummies helps you get a grasp on your camera's controls so you can start taking memorable photos today!
Table of Contents
Part I: Fast Track to Super Snaps
Chapter 1. Getting the Lay of the Land
Chapter 2. Choosing Basic Picture Settings
Chapter 3. Taking Great Pictures, Automatically
Chapter 4. Exploring Live View Photography and Movie Making
Part II: Working with Picture Files
Chapter 5. Playback Mode. Viewing, Erasing, and Protecting Photos
Chapter 6. Downloading, Printing, and Sharing Your Photos
Part III: Taking Creative Control
Chapter 7. Getting Creative with Exposure and Lighting
Chapter 8. Manipulating Focus and Color
Chapter 9. Putting It All Together
Part IV: The Part of Tens
Chapter 10. Ten Fun (And Practical) Ways to Manipulate Your Photos
Chapter 11. Ten More Ways to Customize Your Camera
Book Details
Paperback: 384 pages
Publisher: For Dummies (June 2013)
Language: English
ISBN-10: 1118530462
ISBN-13: 978-1118530467
Download [124.2 MiB]